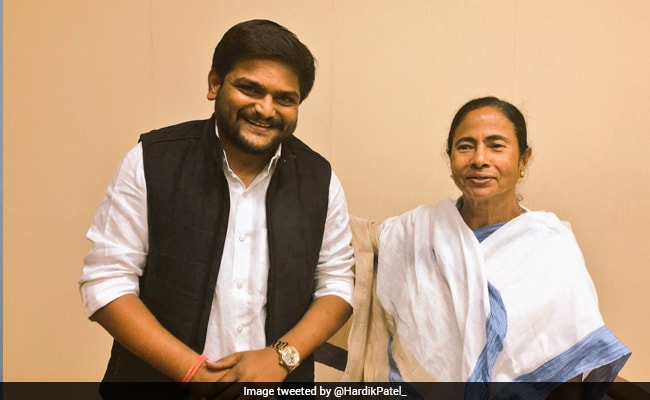 Highlights
Gujarat Patidar leader Hardik Patel met with Mamata Banerjee
He called her an "epitome of struggle for the cause of the people"
The West Bengal chief minister referred to him "like my younger brother"
KOLKATA:
Hardik Patel, the 24-year-old face of the Patidar campaign in Gujarat, met West Bengal Chief Minister Mamata Banerjee on Friday and showered praise at the Trinamool Congress chief who he called an epitome of struggle for the cause of the people. On this metric, he ranked her next only to former prime minister Indira Gandhi.
"Today I met Lady Gandhi and West Bengal Chief Minister," he tweeted after his first visit to the West Bengal Chief Minister's office. Mr Patel made the same point to the cameras outside as he walked out of Ms Banerjee's office as he spoke about the Chief Minister's simplicity and selfless nature.
He also hoped that parties such as the Congress and Trinamool Congress join hands.
"If you ask my personal opinion, I will say she (Ms Banerjee) is an intelligent woman who has a history of being a revolutionary leader and she should come forward to be the leader (of opposition parties)," he said after the 90-minute meeting.
Ms Banerjee - who affectionately referred to him "like my younger brother" - was among the first political leaders to have picked up the phone to pat him on the back after results for last December's Gujarat elections came in. The BJP did make it past the majority mark but the party that had targeted 150 of the 182 seats in the state, ended up with just 99.
Mr Patel, who had campaigned through the state against the BJP, is widely seen to have contributed to this BJP's truncated victory. And he hadn't shied from taking credit. "I still won seats for the Congress. Their vote share went from 33 to 43 per cent... that is because of me," he had told NDTV.
At their meeting on Friday, Hardik Patel also picked up an open invitation to join the Trinamool Congress any time he is looking to join one. Ms Banerjee told him that he should join politics as politicians take policy decisions.
This is his second offer; he already has a similar invite from the Gujarat Congress along with the promise of a party ticket when he turns 25, the minimum age to contest elections.
The Patidar leader reciprocated warmly, offering to campaign for Ms Banerjee's party in the 2019 Lok Sabha elections in West Bengal where she faces an aggressive BJP trying to expand its footprint.
He also invited her over to Gujarat to talk about women empowerment.
"She has come to power after a long fight. I would take advice from her, if required. I have requested her to come to Gujarat to make women of my state aware... She has accepted and said she will make the visit soon," Mr Patel said.