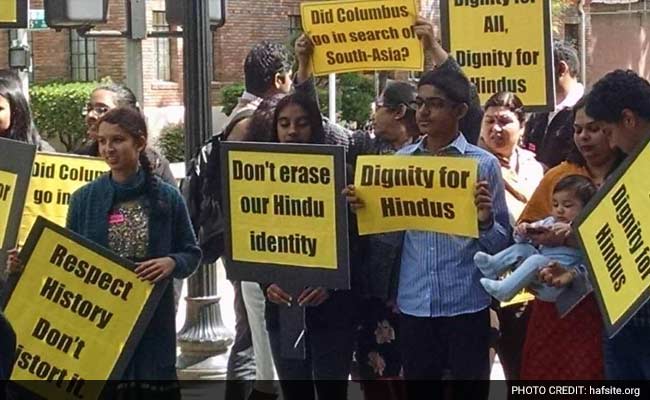 More than 80 years ago, Indian political leader Mahatma Gandhi led the so-called "Salt March" to the shores of the Arabian Sea as part of a non-violent demonstration against taxes on salt under British rule.
In the same spirit of protest, a group of Americans of Indian descent are advocating against a series of proposed revisions to California school history textbooks, changes that they believe diminish the role Hindus played in the world's earliest civilizations. The Hindu American Foundation has started a campaign to keep recognition of Hindus in the new textbooks, which are slated for publication later this year.
The foundation discovered more than 30 places in the sixth- and seventh-grade history curriculum where the words "Hindu" or "India" would be replaced in the new California framework. One example featured a change from "In this unit students learn about ancient societies in India" to "In this unit students learn about ancient societies in South Asia."
Peter Tira, an information officer with the California Department of Education, said the proposals call for "India" to be replaced with "South Asia" so as to "reflect the fact that some of the areas being discussed are actually in Pakistan or other areas not contiguous with modern-day India. . . . Similarly some of the references to Hinduism were revised to reflect the fact that Hinduism was not the only religion in ancient India."
Tira said the proposed changes for India and Hinduism represent a small fraction of the overall framework.
Officials with the California Department of Education said the state is in the middle of its open and public process of updating the state's history and social sciences frameworks along with the guidelines that publishers must follow for textbooks to be approved for use in schools. The state board of education is scheduled to vote on the proposed framework changes in May.
Samir Kalra, senior director of the Hindu American Foundation, said that the proposed changes could have "implications for several years forward," and could inaccurately portray the significance of Hindus in the ancient civilization of India. Kalra said that the textbook changes are inconsistent and appear to only reflect revisions aimed at India and Hinduism. Kalra said that China will not be changed to "East Asia," nor will there be changes to any references to Islam, Christianity, Judaism, Sikhism or any other religions.
In statement through the Hindu American Foundation, California 9th grader Akanksha Maddi wrote that the proposed revisions to the framework are unfair to students with Indian heritage.
"My classmates and teachers think that we Hindus still believe in primitive and unjust practices," Maddi wrote. "I don't want my friends to look down upon me and my culture because of my textbook.
© 2016 The Washington Post
(This story has not been edited by NDTV staff and is auto-generated from a syndicated feed.)