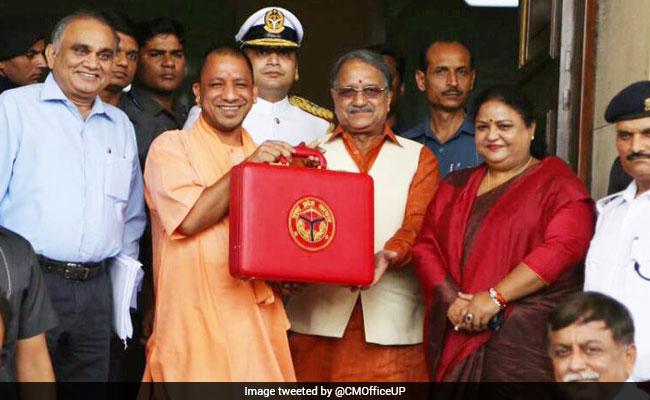 Lucknow:
With an eye on the 2019 Lok Sabha elections,
the Yogi Adityanath government today earmarked in its maiden budget
Rs 1,240 crore for Ramayan, Buddhist and Krishna circuits in the pilgrim cities of Ayodhaya, Varanasi and Mathura.
The BJP government also allocated Rs 800 crore under the Prasad Yojana to develop infrastructural facilities in Ayodhya, Varanasi and Mathura.
In a bid to boost cultural heritage in the state, the budgetary allocation for these circuits has been made under the Swadesh Darshan Yojana.
In its 'Lok Kalyan Sankalp Patra' (election manifesto), the BJP had promised to get a Ram temple built at Ayodhya under constitutional provisions if voted to power in Uttar Pradesh.
"The party is firm on the Ram temple issue ... Efforts will be made to ensure that Ram temple is constructed under the constitutional provisions," BJP president Amit Shah had said while releasing the party's manifesto for the Assembly elections.
"Law will be followed to get the temple built as soon as possible," he had said.
Besides, the budget granted Rs 200 crore to set up a cultural centre in Varanasi, the Lok Sabha constituency of Prime Minister Narendra Modi.
The government has also decided to hold special programmes like Lok Malhar in Gorakhpur and Sawan Jhoola in Ayodhya.
The budget also made provisions for a Krishna
Sangrahalya
(museum) to be set up in Mathura.
It allocated Rs 25 crore for the development of water sports at Ramgarh Taal in Gorakhpur, while it set aside Rs 10 crore for tourism development in Vindhyachal, Rs 5 crore for rural tourism development in Nagla-Chandrabhan in Mathura, and Rs 3 crore for organising a Ramayana Conclave.
It also earmarked Rs 20 crore to construct Kailash Mansrovar Bhawan in Ghaziabad and Rs 500 crore for preparations of Ardha Kumbha Mela in Allahabad. The government set aside Rs 25 crore for helicopter services to promote tourism in the state.
In addition, the government also laid out plans to organise monthly cultural programmes in various districts under Pandit Deen Dayal Upadhyay Janm Shatabdi Samaroh.
It earmarked Rs 135.26 crore for cultural programmes and set aside Rs 20 crore to build a modern auditorium at Gorakhpur, the native place of the chief minister.
It allocated Rs 1 crore to set up tje Geeta Shodh Sansthan in Mathura.
The government also gave Rs 1 crore to provide subsidy to folk artistes for the purchase of instruments to help promote folk arts.