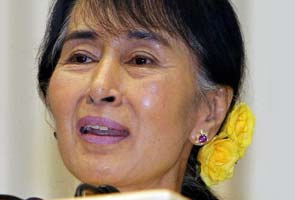 New Delhi:
Jawaharlal Nehru had arranged for some warm clothes for Myanmar's pro-democracy icon Aung San Suu Kyi's khaki-clad father when he was in Delhi on his way to icy London in January 1947, she recalled today.
As the evening weather outside turned cold in the Capital, the Nobel Peace Laureate could not help referring to this "unexpected sartorial significance" when her father General Aung San was proceeding to the British Capital for the first phase of negotiations for Burmese Independence.
Suu Kyi made a mention of this while delivering the Jawaharlal Nehru Memorial Lecture at Vigyan Bhavan where Vice President Hamid Ansari and Congress President Sonia Gandhi were among other dignitaries present.
"To my infant mind, he was the kindly old man who had provided my father with two sets of uniform, the smartest he ever possessed," the 67-year-old Nobel Laureate said in a comment which elicited a smile from Sonia Gandhi.
In January 1947, Suu Kyi's father, widely considered as Burma's Independence hero, had stopped in Delhi for two days on his way to London for the Aung San-Attlee talks.
"He had left Burma in the thin cotton uniform of the People's Volunteer Organisation. Pandit-ji took one look at the flimsy khaki outfit and decided it would not do for the icy weather of London.
"He gave instructions that two sets of a warm and smart version of the PVO uniform be made immediately," the pro-democracy icon said.
Suu Kyi, two-year-old at that time, mentioned that the month in which her father was travelling to London was one of the coldest winters in the history of England.
"He (Nehru) decided that my father would also need a heavy overcoat but since there was not enough time to have one made to measure, a British Army issue greatcoat was procured. The most widely known photograph of my father shows him wearing this garment in the garden of 10 Downing Street (British Premier's office)," she said.