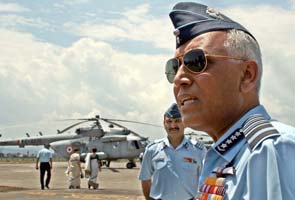 New Delhi:
The CBI, which is investigating allegations of kickbacks in a deal to buy 12 helicopters from Italy, has included former Air Force Chief SP Tyagi in its preliminary enquiry. That indicates the agency believes the charges against him, made first by Italian prosecutors, are not without merit. He has denied any wrongdoing.
The CBI has also named Indian companies IDS Infotech and Aeromatrix, both based in Chandigarh, which were allegedly used along with their directors and senior executives to route bribes to India along with other firms in the UK, Mauritius and Tunisia. Gautam Khaitan, who retired as Director of Aeromatrix in October, and Praveen Bakshi, who was with IDS Infotech and moved to Aeromatrix as the CEO, will also be investigated by the CBI.
The enquiry in India has taken its lead so far from Italy, where prosecutors have arrested the former CEO of defence giant Finmeccanica for paying bribes at home and abroad. The Italians say that retired Air Chief Marshal Tyagi was among those who received kickbacks to ensure that Finmeccanica's helicopter division, AgustaWestland (AW), landed a deal in 2010 worth nearly Rs. 4,000 crore.
In his defence, Air Chief Marshal Tyagi has said the deal was signed three years after he completed his term.
But he was in office when the tender for the helicopters was revised, which allegedly facilitated the scam. Italian investigators say that the new conditions were virtually made-to-order to benefit AW.
CBI officials travelled to Italy last week and returned with documents that could serve as crucial evidence. The government has threatened to cancel the contract; in a letter, AW has said the deal must not be cancelled at this stage, when the investigation has just begun.
(Read: VVIP chopper scam - India to confront AgustaWestland with findings of early enquiry)