New Delhi:
Highlights
Akhilesh Yadav and father Mulayam Singh in major turf war
Both said party symbol of cycle should be assigned to them
Akhilesh, backed by majority of Samajwadi Party, wins the case
Ahead of the election in Uttar Pradesh, where he is seeking a second consecutive term, Chief Minister Akhilesh Yadav has been declared the
rightful owner of his Samajwadi Party's symbol, the cycle
.
The 43-year-old has for weeks been facing off with his father, Mulayam Singh, for control of the party. Both sides earlier this month filed competing claims with the Election Commission to use it as their own,
telegraphing that if needed, they would contest the election as rival outfits
. The decision in Akhilesh Yadav's favour, delivered this evening, also found that his faction of the Samajwadi Party is the real thing, with the
Election Commission recognising
that the majority of legislators back him over his father.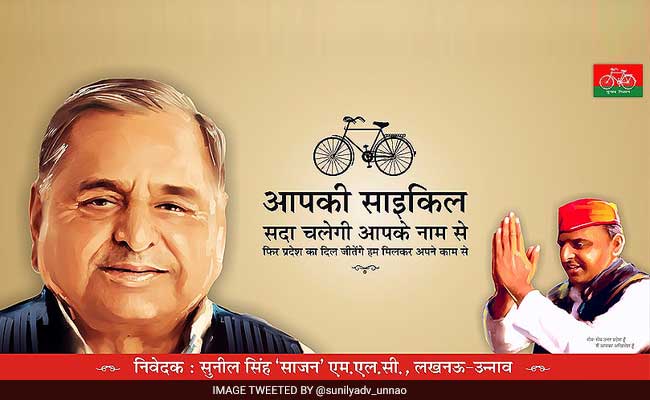 Aware that splitting their party comes with the risk of splitting votes, father and son have made repeated attempts to soften the lines dividing them, but mediation sessions by Samajwadi leaders like Azam Khan as well as private consults have failed. Earlier today, Mulayam Singh plaintively told those in the party who have sided with him - a group whose strength lies neither in its age nor numbers - that "I try to talk to Akhilesh but he doesn't listen."
After winning the cycle, the Chief Minister walked over from his house to see his father, who lives next door.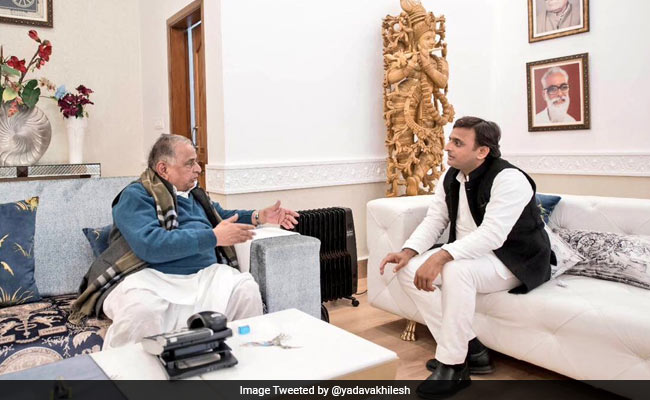 In 2012, Akhilesh Yadav, then just 37 years old, biked across Uttar Pradesh, promising to its youth jobs, growth, computers and education. His energy and sincerity struck a chord in a state used to being placated or instigated by offerings based on caste, and he became the country's youngest Chief Minister. The cycle, for voters, is easy shorthand for the Samajwadi Party; the right to use it is political gold.
It was on January 1 that Akhilesh Yadav - done with being relegated to the sidelines by his father and uncle Shivpal Yadav - hijacked the party by replacing Mulayam Singh, 77, as Samajwadi Party president. Mulayam Singh protested that the move broke party rules, but it was a weak claim given that thousands of party workers, legislators and leaders were part of the conclave where Akhilesh Yadav was given his father's post.
Though Mulayam Singh and Shivpal Yadav needed the Chief Minister for months, challenging and over-ruling decisions he took, it was their unilateral choice of candidates for the election that undid the family's tenuous co-existence at the top of the party. Coached by another uncle, Ram Gopal Yadav, Akhilesh Yadav announced his own list of candidates and then moved to exile his father to the ceremonial post of a mentor or
margdarshak
.
Another crucial irritant for the Chief Minister has been Amar Singh, 60, who returned as aider and abettor of Mulayam Singh's aspirations and reportedly urged him to keep his son in check if he wanted to remain relevant in the party.