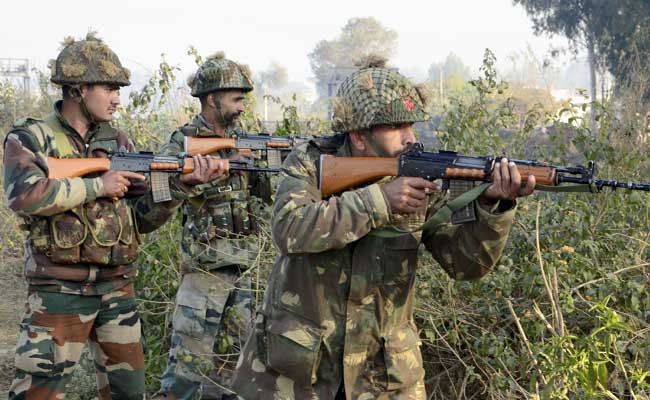 Pathankot:
All six terrorists who launched an attack on the Air Force base in Pathankot on Saturday morning have been killed, ending a more than 48-hour siege. At least seven troops have been martyred and 20 others are injured.
Four terrorists were killed on Saturday, but fresh gunfire was reported on Sunday after which another offensive was launched by the security forces. Two more terrorists who were holed up in the administrative block of the Air Force base were killed today.
On Sunday, Home Secretary Rajiv Mehrishi told reporters that the last two gunmen had been cornered and would be "neutralized" soon. Sources tell NDTV that it's clear that the terrorists moved in two groups.
The large-scale attack on the Pathankot air force base started before dawn on Saturday and comes a week after Prime Minister Narendra Modi became the first Indian premier in 12 years to visit Pakistan.
Mr Mehrishi said Indian authorities were alerted about a potential attack in Pathankot, and that aerial surveillance at the base spotted the terrorists as they entered the compound. He said they were engaged by Indian troops and were kept away from the base's aircraft and military equipment.
Since Saturday morning, the base has been swarming with air force commandos, troops from the elite National Security Guard and local police.
A senior air force officer, Air Marshal Anil Khosla, told reporters in New Delhi that the base will not be declared fully secured until the entire area is checked by troops.
The sprawling Pathankot air force base is spread over several kilometers, including some forested sections. It houses a fleet of India's Russian-origin MiG-21 fighter jets and Mi-25 and Mi-35 attack helicopters, along with other military hardware.
The Defense Ministry said no aircraft or military equipment had been damaged in the fighting.
The base is on the highway that connects Jammu and Kashmir with the rest of the country. It is also very close to the border with Pakistan.
The violence follows Prime Minister Modi's surprise December 25 visit to Pakistan, where he met with his Pakistani counterpart, Nawaz Sharif - a trip that marked a significant thaw in the mostly tense relations between the two countries.
Ahead of PM Modi's visit to Pakistan, the national security advisers of both countries met in Thailand. The Foreign Secretaries of both nations are to meet in Islamabad later this month.
Neither New Delhi nor Islamabad have so far given any indication that the planned talks are under any threat.
Pakistan's Foreign Ministry has condemned the attack.
While all political parties condemned the attack, there were no demands that the Modi government call off talks with Pakistan.