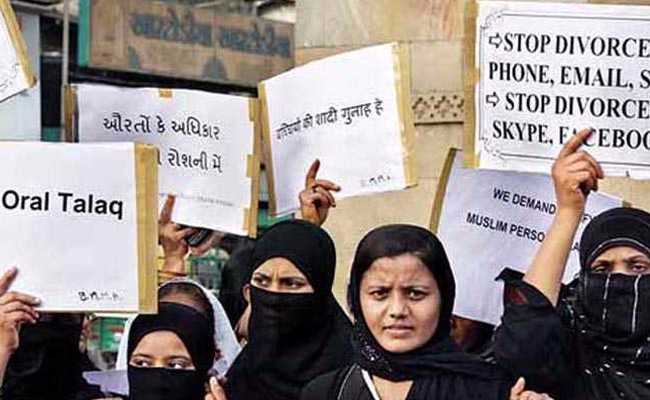 New Delhi:
Instant "Triple Talaq" or "Talaq-e-Biddat" is an Islamic practice that allows men to divorce their wives immediately by uttering the word "talaq" (divorce) thrice. The pronouncement could be oral or written, or, in recent times, delivered by electronic means - telephone, SMS, email or social media. The Lok Sabha has passed the "Triple Talaq" bill that makes instant "Triple Talaq" a criminal offence and proposes a three-year jail term for a Muslim man who divorces his wife by uttering the word "talaq" three times. The "Triple Talaq" bill will now be sent to the Rajya Sabha, where it is expected to face rough weather. In a landmark ruling in August, the Supreme Court had said that instant "Triple Talaq" or "Talaq-e-Biddat" was unconstitutional and violated the fundamental rights of women.
The proposed law will be applied to only instant "Triple Talaq" or "Talaq-e-Biddat" which is irrevocable divorce and not on "Talaq-e-Sunnat" which is a revocable divorce.

Here's an explanation on types of talaq in Islam:

Muslim Personal Law says that a talaq can either be given by the husband or by the wife. It can also be a mutual divorce.

Talaq given by husband are of following types:

"Talaq-e-Sunnat" or "Talaq-ul-Raje" is a revocable divorce that can be pronounced in Hasan or Ahsan forms.

"Talaq-e-Ahsan" is the 'most proper' form of talaq in which the husband expresses divorce in single sentence - "I have divorced thee" - during the period of tuhr (when the wife is not menstruating) and then has to wait till the iddat period is over. Iddat period for a woman who has been divorced by her husband is usually three monthly periods and during this time, she cannot marry another man. If before the completion of iddat, the husband resumes co-habitation with his wife or says that "I have retained thee", the divorce is revoked.

In case the woman is pregnant, the iddat period lasts until she gives birth. The waiting period for a woman after menopause is three months.

"Talaq-e-Hasan" is the 'proper' form of talaq. In this form, three successive pronouncements of talaq are made by the husband in three successive tuhrs (when the woman is not menstruating). In case of a non-menstruating woman, its pronouncement may be made after the interval of a month or thirty days between the successive pronouncements. This form of talaq can be revoked any time before the third pronouncement.

"Talaq-e-Biddat" or "Talaq-ul-Bain" (Irrevocable divorce) is instant Triple Talaq and is effective as soon as the word "Talaq" has been pronounced thrice. In this form of talaq, three pronouncements can be made during a single tuhr (when the woman is not menstruating) by saying "I divorce thee" thrice at the same instant.

The other ways in which a husband can divorce the wife are Ila and Zihar. In Ila, the husband takes an oath not to have sexual intercourse with his wife. In this case, the husband does not co-habit with his wife for a period of four months and after the expiry of four months, the marriage is dissolved.


In
Zihar
, the husband compares his wife with a woman within his prohibited relationship (like mother or sister). In this case, the wife can approach the court of law.
Divorce given by wife are of following types:
In Islam, only husband can pronounce the
talaq
on his wife, and not vice versa. However, he can delegate this power to his wife or a third person by agreement - absolutely or conditionally, temporarily or permanently. This is called "
Talaq-e-Tafweez
, a delegated divorce.
The other type of divorce by wife is called lian. If the husband levels false charges of unchastity or adultery against his wife, then this amounts to character assassination and the wife has got the right to ask for divorce. This practice is called lian.

A mutual divorce:

A divorce by mutual agreement is called Mubarrat or Khula. In Mubarrat, the aversion is mutual and both sides desire separation. In this mode of divorce, the offer may be either from the side of wife or from the side of husband. When an offer Mubarrat is accepted, it becomes an irrevocable divorce and iddat is necessary.

In Khula, however, wife initiates the divorce. This is effected by the return of her husband's wedding gift called Mahr.

A judicial divorce:


Before 1939, a Muslim wife had no right to seek divorce except on the ground of false charges of adultery, insanity or impotency of the husband, but then came Muslim Marriage Act. Under Muslim Marriage Act, 1939, there are several grounds in which judicial divorce can be pronounced. A woman can seek divorce in the court of law under following circumstances:
If the whereabouts of the husband are unknown for a period of four years, if the husband neglects or fails to provide for her maintenance for a period of two years or has failed to perform his marital obligations for a period of three years or was impotent at the time of marriage or has been insane for a period of two years or is suffering from leprosy or virulent venereal disease or is sentenced to imprisonment for a period of seven years or upwards.

The divorce can also be initiated by the wife in the Muslim court if the husband treats the wife with cruelty, even if such conduct does not amount to physical violence. The other conditions are if the wife has been given in marriage by her father or guardian before she attained 15 years of age, if the husband associates with women of evil repute or leads an infamous life or attempts to force her to lead an immoral life or disposes of her property, obstructs her in the observance of her religious practice or if he has more wives than one and does not treat her fairly.