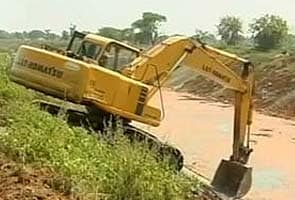 New Delhi:
When Ajit Pawar resigned as Deputy Chief Minister of Maharashtra a week ago, he said he was being maligned by allegations that a 70,000-crore scam played out during his term as the state's Irrigation Minister. NDTV has accessed information that suggests Mr Pawar sanctioned major violations of the guidelines of his own department.
Mr Pawar, who was Irrigation Minister from 1999 to 2009, authorised "mobilisation advances" to contractors who were hired for irrigation projects - usually dams and canals - in the Vidarbha region of Maharashtra.
In 2000, the Irrigation Department had said these advances would be discontinued as a practice. A report by the state's auditor or CAG this year has criticised the government - it found that "payment of mobilisation and machinery advances had resulted in undue benefit to the contractors."
Despite its own policy, the Irrigation Department released advances to four contractors between 2008 and 2009. The orders authorising the payment were signed by Mr Pawar, and copies of these have been accessed by NDTV.
Activists who have been a driving force in exhuming the irrigation scam allege that these advances were actually kickbacks - the contractors allegedly used these to pay politicians and officials who had hired them. Further fuelling charges of cronyism is that a majority of these contractors have direct political links, or are close to politicians of the ruling NCP-Congress coalition.
The four projects which received advances were:

1. The Dhapewada Barrage:
Soma Enterprises was hired, its promoter was Avinash Bhosale, a builder from Pune known to be close to the Pawar family. He asked for and received 20 per cent as an advance in June 2008. This was allowed in a letter signed by Mr Pawar.
2. The Purna Barrage in Vidarbha:
Here, the company hired was SMS Infrastructure, owned by BJP MP Ajay Sancheti, and Thakkar Constructions, owned by D Thakkar. The cost of the project escalated from 164 crores to 189 crores; consequently, the advance to the company was increased from 10 per cent to 15 per cent in an order in March 2009. Once again, Mr Pawar's signature is on the document. Mr Sancheti is alleged to be close to BJP president Nitin Gadkari, who yesterday sued Congress leader Digvijaya Singh for declaring that he is Mr Sancheti's business partner. SMS Infra in a statement said these advances were required to begin work - "The mobilisation advance was granted for the speedy construction of project, and it is for the early benefit of the farmers, so that corporation, secondly the mobilisation advance was given on bank guarantee and it was interest bearing, though it was not in tender, but for the early completion of project, it was granted by corporation."
3. Waghadi Barrage in Vidarbha:
In this case, the contractor was Bajoriya Construction, owned by the family of Sandeep Bajoriya, a politician from Mr Pawar's party. The cost of the project was increased from 38 to 45 crores, and the advance was increased from 10 per cent to 15 per cent; the final papers were signed in 2009 by Mr Pawar. Mr Bajoriya told NDTV that he has never misused his political connections to help his family's company land contracts. He also said that the advance that was cleared for this project was eventually not utilised by Bajoriya Construction.

4. Lower Pedhi, Vidarbha:
D Thakkar was hired as the contractor, the cost of the project escalated from 128 crores to 147 crores. Mr Thakkar was cleared for a 20 per cent advance in documents signed by Mr Pawar in September 2009.
The NCP's Majid Memon denied that the documents accessed by NDTV suggest cronyism. "What is wrong in the Pawar family knowing Avinash Bhosale? The Pawar family knows all the major builders, what is wrong? If he knows Pawar, should that be the basis of not granting him the contract? Unless and until you prove something is wrong, if he deserves it on merit and nothing is irregular, nobody can find fault," he said.
Mr Memon also pointed out that Mr Pawar had resigned as Maharashtra's Deputy Chief Minister and invited an inquiry into the alleged scam. He also said that NCP chief Sharad Pawar too had said the party favoured a white paper on the issue soon. "What more? The interests of justice will be served if both sides are heard...These are all assumptions, wild guesses. The Deputy Chief Minister has stepped down. Let us have the inquiry and the truth will be out soon," Mr Memon said.