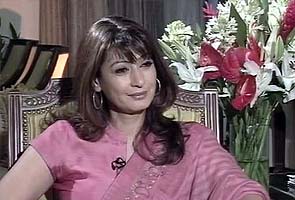 New Delhi:
When Shashi Tharoor was sworn in as a minister on Sunday, his wife watched, not quite from the sidelines, filming him on her iPhone at Rashtrapati Bhawan.
Since then, the attention has been firmly and inescapably hinged to her. First, she was attacked in the most misogynistic language by BJP leader, Narendra Modi. Then she was molested when she landed at the Thiruvananthapuram airport with her husband. Cameras caught her trying to swot away a man who was groping her.
On Monday, Mr Modi while campaigning in Himachal Pradesh, did not name either Sunanda or Shashi Tharoor, but said the government had promoted a man with " a 50-crore girlfriend." There was public outrage over the sexist and offensive remarks. Mr Tharoor responded yesterday, first on twitter and then on camera, by stating "my wife is priceless."
Mr Modi was referencing the controversy in 2010, when Mr Tharoor was forced to quit as Junior External Affairs Minister over allegations that he had used his office to help promote an IPL franchise from Kochi, which had granted Sunanda, then his girlfriend, sweat equity worth 70 crores.
"How can he stoop to something like that? It is the land of Mahatma Gandhi and Sardar Patel...and then you've got this guy...I was just shocked," Mrs Tharoor told NDTV today.
(Read: Full transcript)
"I don't get it...Why do guys belittle women? " She urged the women of Gujarat to vote against Mr Modi, who she said she would not refer to by name. "This guy wants to win an election...who has put a price tag on a woman. I want to ask the women about this country- would you want a man like this to lead you?" She also said that Mr Modi's blatant sexism had been exposed earlier when he said that girls in his state are malnourished because they diet to appear fashionably thin.
When asked what she would like to say to Mr Modi, she responded, "I would have nothing to say to him. A man who hasn't apologised to people for the killing of innocent Gujaratis...how would I expect him to apologise to me?"
Mrs Tharoor said that it's unfair for political parties to include private citizens in their warfare. "Why are you using these people as crutches?" she asked, referring to the allegations of corruption made recently against Robert Vadra, the son-in-law of Congress president Sonia Gandhi. She also challenged the BJP to prove its allegations that she earned 50 crores through her association with the Kochi IPL team that failed to materialize. "First they said it was 70 crores...now they say it's 50 crores...show me the money," she said, adding that the Enforcement Directorate had cleared her financial transactions and record.
Mrs Tharoor defended the public displays of affection with her husband that are often caught on camera. "I grew up in a family where my father and mother would kiss and hug me at the drop of a hat. Shashi is an affectionate person. Only Shashi is targeted...probably because we're still in love," she said. "I don't want to name names but I am glad to see all our young ministers are very affectionate towards their wives."
About being molested when she landed in Thurivanthapuram on Monday, she said the man who assaulted her is 19-years-old and is not a Congress worker, as described by the media. She said she decided not to press charges against him after he apologized profusely and his family pleaded that a police case would ruin his career and future.
Though some media reports said she slapped the man, footage showed her trying to push him away. "I was told politically correct thing would have been to grin and bear it. This is what women have gone through for centuries. I decided not to grin and bear it. Kerala women thanked me, said you've become a sort of role model for us," she said.
About her husband's predilection for tweeting (a remark on flying cattle class landed him in trouble during his earlier term as minister), she said, "I told him to be very careful...when we got married, I was not happy with some of his tweets." His cattle class tweet, she said, had been misunderstood. "Not everyone is educated in a convent and understands what cattle class is," she said.
When asked what has changed about her after marrying Mr Tharoor, she said the limelight has taught her to be cautious. "I'm one of the most bindaas people you've ever met," she said about learning to be measured in her comments and behaviour.