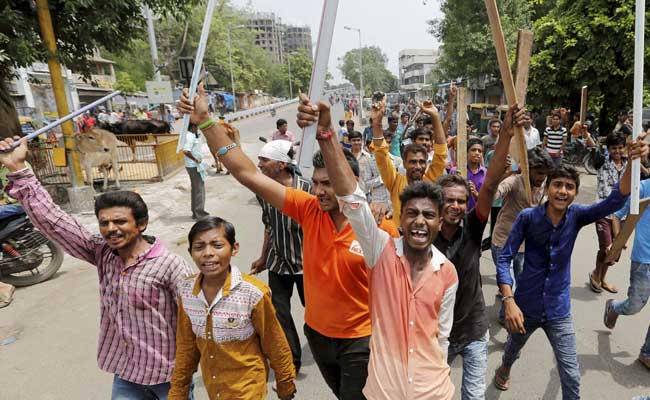 Ahmedabad:
Seven persons, including two women, from the Dalit community, on Friday tried to commit suicide as protests continued against the July 11 atrocities on Dalit youths at Una in Gujarat, officials said.
Three persons of Ranpur village in Botad, one youth in Porbandar and one person in Jamnagar tried to commit suicide in support of the ongoing agitation and demanded speedy justice for the Dalit boys.
Gujarat has reported 30 incidents of suicide attempts during the last one week.
The Dalit youth in Jamnagar, however, was learnt to have attempted suicide apparently to protest against work conditions and behaviour of his higher ups in the local self government body where he is employed.
Reports of two women going in for a self-immolation bid came in from Than in Surendranagar.
They were part of the 150-strong crowd that had gheraoed a police station seeking immediate release and withdrawal of cases against protesters who were booked for rioting early this week.
Seven from a Dalit family were attacked, with four of them being paraded half-naked in Una town and beaten in public view on July 11, for allegedly skinning a dead cow. This sparked a huge row across the country.
Protest rallies on the issue were reported in Bhachau town of Kutch, in Patan, Anand, Mansa, Viramgam and Vadodara in central and north Gujarat.
A rally of over 6,000 Dalits was also taken out in Vadnagar, home town of Prime Minister Narendra Modi. Most of these protests were relatively peaceful, except for a few instances of stone throwing.
The National Human Rights Commission, meanwhile, has issued a notice to the district collector and district superintendent of police to provide details of the Una incident and the action taken.