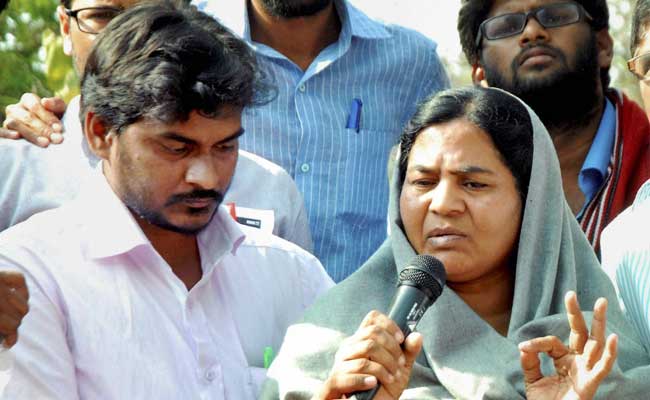 Hyderabad:
Dalit scholar Rohith Vemula's parents criticised the government today and rebuffed the compensation offered by the university, asking why it took Prime Minister Narendra Modi five days to speak about her son's suicide.
Speaking at an event in Lucknow on Friday,
PM Modi had expressed anguish and said he could "understand the pain" of the family
.
"The Prime Minister says he (Rohith) was a son of Mother India. I am not big enough to talk about him (PM). Why he did not speak for five days?" Rohith's father Raju was quoted as saying by the Press Trust of India.
Rohith's mother, Radhika, said, "(Union Education Minister) Smriti Irani called up after five days. Why did it take five days? You are also a woman, you are also a mother and it took five days (to call up the family and condole the death)."
"I want to know why he died. Was he killed or did he die? Why was he suspended? Those responsible should be arrested and punished. That's the only thing I want," she said.
The comments came on a day when
an affidavit filed in the Hyderabad High Court in October last year by the police emerged
, contesting the claim of an ABVP student leader Susheel Kumar that Rohith Vemula and his companions had attacked him in August leading to serious injuries and hospitalisation.
The alleged assault had resulted in a court case and two university inquiries leading to the suspension of Rohith Vemula and four students.
Rohith's classmates who are protesting the moves
, say it was one of the main triggers for his suicide on January 17.
Radhika, sister Neelima and brother Raju, who visited the campus, demanded that "those responsible for his death" be brought to book. "We don't want eight crore rupees from HCU where he died," Ms Neelima said. The university had announced a compensation of Rs 8 lakh for Rohith's family.