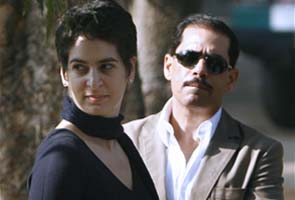 New Delhi:
Robert Vadra has closed his Facebook account, reportedly after a controversy over a remark he posted on the social networking site on Sunday.
Mr Vadra, who is a businessman and the son-in-law of Congress chief Sonia Gandhi, was slammed by many activists, including Arvind Kejriwal, yesterday after he reportedly posted on his Facebook page a message that read: "mango people in a banana republic." "Mango people", translated into Hindi, means aam aadmi (common people).
Mr Vadra reportedly deleted that remark later. But by then, Mr Kejriwal had already taken notice of the comment and decided to make some noise about it.
Hitting back at Mr Vadra, the activist-turned-politician posted on micro-blogging site Twitter, "Evidence pouring in from mango men from across the country. Mango men wud (sic) prove to be nemesis for the powerful."
Mr Kejriwal has stirred a huge controversy by alleging that the business deals between real estate giant DLF and Robert Vadra are "illicit". Mr Kejriwal has accused DLF of gifting Mr Vadra an interest-free loan of Rs 65 crore as well as discounted apartments in some of the company's fanciest housing projects in Gurgaon.
The activist has also alleged that in return for the sweetheart deals, the Congress, which is in power in Haryana, released land reserved for public interest projects to DLF, and that the developer was given express-lane clearances and permissions.
Mr Vadra has described the allegations as "defamatory"; DLF has also refuted the charges.
Sources close to Mr Vadra have said that he closed down his account yesterday but refused to specify the reasons behind it.
Reports say Mr Vadra was unhappy with the controversy over "a light comment" made by him.
Mr Vadra has reportedly communicated to some of his friends that he will open a new Facebook account soon and will include only close associates in his friend list.