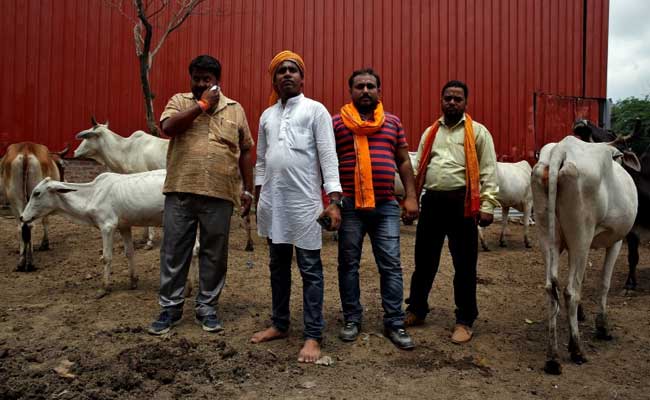 Agra:
Two miles down the road from the white marble walls of the Taj Mahal, a heavyset man crouches in the dirt of a cow shed.
Digvijay Nath Tiwari is commander of a vigilante group that claims 5,000 members in the city of Agra, and which cultivates informants, swarms shop owners, ambushes trucks at night and metes out extra-judicial violence, all for one cause: protecting the holy cow.
Across the country, hardline Hindu groups have made headlines after being captured on video insulting and beating men they accuse of involvement in cow slaughter.
"Retaliation is important at times," said Tiwari, as he sat with 17 men squeezed around a straw mat on the shed floor. His cell phone contained photographs of stick-wielding men rushing to the aid of fallen cattle.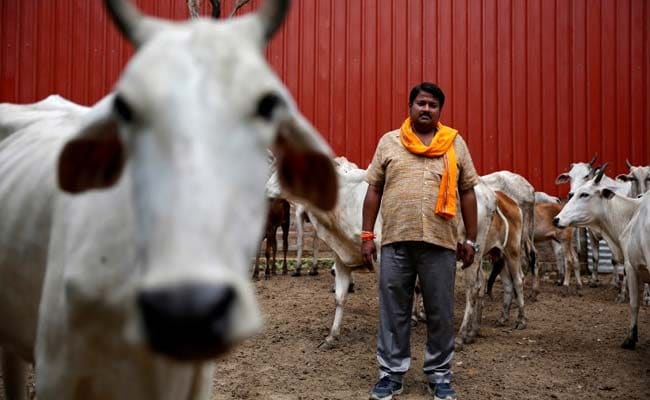 Local police say they cannot stop Tiwari's actions, laying the blame partly on lax laws.
The "gau rakshaks" or cow protectors risk undermining Prime Minister Narendra Modi's efforts to focus on economic advancement.
The implications reach far beyond the winding alleyways of Agra.
Social and religious stability are key to future assumptions of prosperity in India, currently the world's fastest expanding major economy.
Cow slaughter is illegal in most of India. However, it had long been tolerated under the Congress which prides itself on protecting Muslims and lower castes who ply the meat and leather trade.
After being election, the PM has focussed on more pragmatic and inclusive economic issues: spurring growth and creating enough jobs for a rapidly expanding workforce.
In a speech on Saturday in Delhi, PM Modi lashed out at the cow protectors.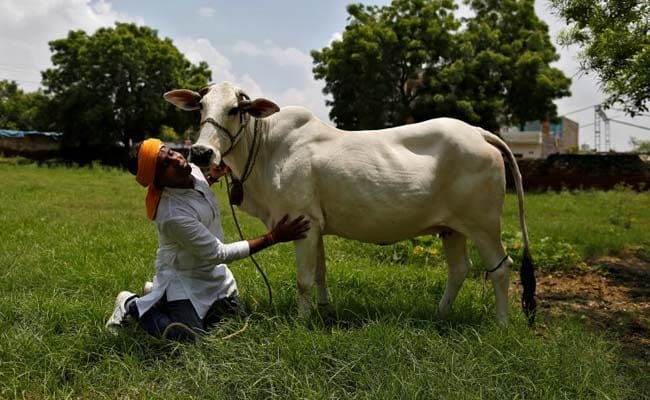 "I feel so angry at times. Some people who are engaged in anti-social activities for the whole night wear the mask of 'gau rakshaks' in the day," he said.
A senior aide to the PM, who is approaching the halfway mark of his five-year tenure, said at the end of July that while the leader is aware of the social and economic implications, "we cannot do much to stop cow protection forces ... cow protection is integral to our core support base."
A disturbing video from Gujarat shows the violence of cow vigilante groups in Una a few weeks ago. Four Dalit men, shirtless, tied to a bumper being whipped with rods.
Chandra Bhan Prasad, a prominent Dalit writer and adviser to the Dalit Indian Chamber of Commerce and Industry, compared the violence to that of Ku Klux Klan racism in the United States.
"It's like India's version of KKK - the past was great so long as these blacks were under our thumb, society was beautiful. So, how to control these Dalits?"
Champat Rai, a leader of the Hindu activist Vishwa Hindu Parishad (VHP), or World Hindu Council, a group formed by RSS leadership which oversees cow groups, was frank.
"I am a cow patriot and want to free cows from the slavery of Muslim butchers," he said. "It's better we shed our blood to save the blood of cows."
In Agra, some 135 miles south of Delhi, a prominent Dalit businessmen in the city, H.K. Pippal, said recently at his shoe factory that he had a plan should the cow protection gang try to interfere with his operations and the cow leather it uses. "I am very powerful, my workers could kill them."
Tiwari, the cow group leader, blames the butchers for much of the problem."It's not just that the butchers get beaten," he said. "They attack us and threaten to kill us. It is a serious clash."
Tiwari acknowledged having four criminal cases pending against him, but said he was innocent in all of them.
In February this year, the vice president of the VHP in Agra, who was also a senior member of Tiwari's group, was surrounded by a group of five Muslims while walking from a temple to his furniture shop, according to a police report.
The men had previously been targeted by the cow protectors for allegedly dealing in beef, according to Tiwari.
One of them boasted: "You think that you are a big leader, we'll teach you a lesson today," said the police report.
A pistol shot rang out and the VHP official, Arun Mahour, fell dead in one of the oldest and busiest markets of Agra.
A mob of young Hindu men set out for a Muslim quarter, said the police officer in charge of the area, S.K. Sharma.
Soon, thousands of people were in the streets, Sharma said. "This almost became a riot between the Hindus and Muslims."