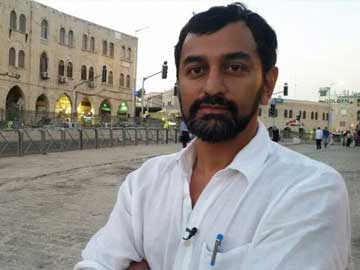 Jerusalem:
When my colleague Niha Masih called Ron Paz, the Israeli government's media coordinator, he greeted her with a 'namaste'.
Later, when we met him at his office at the outskirts of Gaza to collect our media accreditation, he offered us a cup of chai.
Bemused, we asked if Paz had an Indian connection. He told us he met his wife, who is of Korean origin, on the ghats of Benares during a three month journey through India. "The first kiss was in India", he said with a smile.
On the day we met him, Paz was busy shaping a response to harsh words from the United Nation's Relief and Works Agency, which manages Gaza's overflowing shelters and refugee camps.
In their current, bloody push into Gaza, Israeli forces had shelled a UNRWA-run school-shelter in Jabaliya in northern Gaza, a temporary home to more than 3000 Gazans fleeing the violence. At least 15 were killed.
At the UNRWA's Jerusalem headquarters, it's overworked spokesperson, Chris Gunness, fielded a deluge of calls from the world media, asking him for interviews on the UN's strong statement, asking for international intervention against Israel.
(Also Read: UN Official Cries While Discussing Gaza Attacks, Israel Wants Him Removed)
I asked Gunness about his somewhat unusual surname. It almost sounds Indian, like Ganesh, I remarked. It is, he said, "I'm half Tamilian". Judging by his accent and his professional pedigree (Gunness was earlier with the BBC), it is safe to assume the other half is British.
Earlier this week, Harinder Mishra, PTI's man in Jerusalem, reported on another Indian connection to the Israel war, which made headlines for more directly tragic reasons. Barak Refael Degorker, a 27-year-old Indian-origin Israeli soldier was killed after being hit by a mortar shell near the Gaza Strip border. Degorker belongs to the Bene-Israel community, who trace their origins to Mumbai, the largest community of Indian Jews in Israel. There are about 80,000 Indian-origin Jews living in Israel. A few days later, another Indian-origin soldier Paz Eliyahu, 22, was killed in a booby trap blast in Gaza. Eliyahu's family is from Kochi, which, like Mumbai, is home to a small but vibrant Jewish community.
Meanwhile, this despatch is written from the serene courtyard of the Indian Hospice in Jerusalem, an 800-year-old institution in the heart of the Old City, just minutes away from the holy sites of the world's great monotheistic religions. It was offered to a 12th century Indian Maulvi from Punjab during his pilgrimage to the Holy Land, and has been run by the Ansari family from Saharanpur since 1924. The exuberant Najam Ansari, who runs the Hospice as a hostel for visiting Indians showed us the walls of the reception, festooned with photographs of visiting dignitaries - from Jaswant Singh to Hamid Ansari to Shashi Tharoor. Pointing to an image of Zubin Mehta, she exclaimed "this is the Master. My favourite!"