Amethi (Uttar Pradesh):
Highlights
BJP Chief Amit Shah, who is in Amethi today, attacked Rahul Gandhi
He said Mr Gandhi hasn't done any development in Amethi, his constituency
He was accompanied by Yogi Adityanath and union minister Smriti Irani
BJP chief Amit Shah's scathing speech at a big rally in Uttar Pradesh's Amethi today was entirely addressed to "Rahul Baba" or Congress vice-president Rahul Gandhi, who is the member of Parliament from the constituency, known for years as a stronghold of his party.
Mr Shah reminded the Congress leader of
Amethi's loyalty in voting for him
and his family for decades, alleging that in return they gave nothing in the way of development to the voters. "I want to ask Rahul Baba, Amethi has voted for three generations of Nehru Gandhis over 70 years, is this the way you show gratitude?" said Amit Shah.
The BJP chief asked why Amethi still does not have, "a Collector's Office or a hospital to treat tuberculosis or an FM radio station, jobs for people," listing some of the 21 projects that were launched in Amethi today as Mr Shah visited along with union minister Smriti Irani and UP chief minister Yogi Adityanath.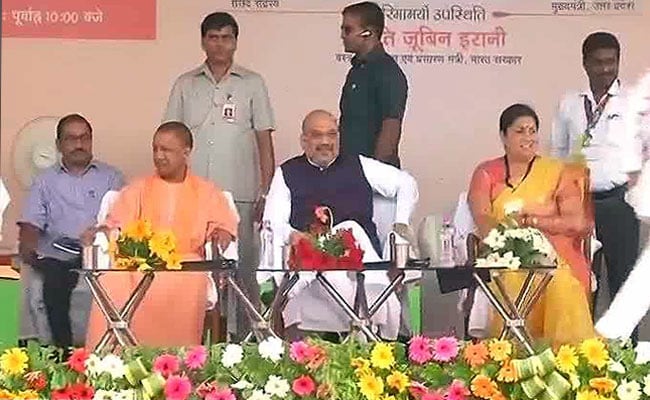 He made a number of jibes at the Congress leader like when he said, "Since being voted to power in 2014, the Modi government has launched 106 welfare schemes for the benefit of all, especially the poor... Rahul baba probably doesn't even know how to count till a 106."
Smriti Irani and Yogi Adityanth added their own taunts. "I promised the people -- even if Rahul ji doesn't have time for you, I will give time. I returned after elections," said Ms Irani, who lost the 2014 Lok Sabha election from Amethi to sitting MP Rahul Gandhi, but reduced his winning margin considerably. Her work in Amethi was praised by her party president, who said, "I have never seen the elected representative not come to his constituency whereas the person who lost is always here, she never neglected Amethi."
"Smritiji had finalised the October programme a month ago -- we all knew. Suddenly on October 2, I found out that a gentleman from Delhi is coming. I wondered -- he always remembers Italy, but never Amethi.
Chalo
, at least he got a chance to stay in Amethi for three days and you got a chance to see him," said Yogi Adityanath, referring to Mr Gandhi's visit last week to Amethi, his first in six months and made, the BJP has alleged, only to register his presence before Amit Shah's big rally.
Amit Shah said
Mr Gandhi has questioned development in BJP-ruled Gujarat
, where assembly elections will be held soon, and he would answer from Amethi, promising that Uttar Pradesh "will now see the kind of development that Gujarat has," with the BJP ruling both at the Centre and the state.
Cheered by his audience of thousands, Mr Shah asked Amethi to compare the "Nehru-Gandhi model with the Narendra Modi model of development and decide for yourselves." He thanked voters for sending four BJP candidates to the state assembly from the five seats that Amethi has, promising that the BJP would be back to seek votes "not on the basis of promises, but work done."
Amethi was one of only two parliament seats of UP's 80 that the Congress could win in 2014; the other was neighbouring Rae Bareli, also a Gandhi family stronghold, from where Congress chief and Rahul Gandhi's mother Sonia Gandhi contested and won. The BJP had won 71 seats and hopes to wrest the two Congress seats too in the next national election in 2019, encouraged by its win of six of the 10 assembly seats in Amethi and Rae Bareli in state elections earlier this year.