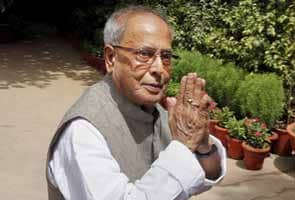 New Delhi:
Purno Sangma's team has formally objected to Pranab Mukherjee's nomination as a candidate for President of India, saying he holds an office of profit as Chairman of the Indian Statistical Institute. Team Mukherjee has said this is factually incorrect as Mr Mukherjee quit this position even before he resigned as Finance Minister last week.
Mr Sangma, a former Lok Sabha Speaker, takes on Mr Mukherjee in the Presidential election scheduled for July 19.
Bhartrihari Mahatab, a Member of Parliament who is serving as Mr Sangma's election agent, complained to the returning officer today that Mr Mukherjee still held the post at the Kolkata-based Indian Statistical Institute and hence could not run for President.
The BJP too stepped up the attack on Mr Mukherjee and said his nomination will be rejected. "Pranab was the chairman of Indian Statistical Institute and has continued to be so. Article 102, has a power to Parliament that we can exempt a member to file nomination... I am confident that the nomination will be rejected and Sangma shall become President,"said BJP spokesperson Ravi Shankar Prasad.
But Mr Mukherjee's election agent and Parliamentary Affairs Minister Pawan Kumar Bansal described this as "legally ill-conceived," as Mr Mukherjee had resigned before he filed his nomination. Mr Bansal said both he and Home Minister P Chidambaram checked with Mr Mukherjee who said he had resigned. Mr Bansal said Team Mukherjee would file a written reply tomorrow.
The scrutiny of nomination papers has been delayed to tomorrow in view of Team Sangma's objection today. Mr Mukherjee has to file a response by 2 pm tomorrow. The issue may be settled if the returning office is satisfied that chairman of the statistical institute is not an office of profit, or Mr Mukherjee quit in time.
The Indian Statistical Institute too has said that Mr Mukherjee submitted his resignation as Chairman on June 20, this year. It has also clarified that Mr Mukherjee's position there was not an office of profit in any case as he was not paid an honorarium, nor were his travel expenses reimbursed. The institute has admitted it made a mistake in not updating its website, which still listed Mr Mukherjee as its Chairman till this afternoon. It has now removed his name.
The Indian Constitution while defining qualifications for a Presidential candidate under Article 58, states that "A person shall not be eligible for election as President if he holds any office of profit under the Government of India or the Government of any State or under any local or other authority subject to the control of any of the said Governments."
Mr Mahatab is a member of Navin Patnaik's BJD party, which has nominated Mr Sangma for President along with Jayalalithaa's AIADMK and the BJP.
BJD chief Naveen Patnaik also accused Mr Mukherjee today of having doled out huge amounts of money as Finance Minister to several states to ensure, the Odisha Chief Minister alleges, support for his candidacy. "Could it be that this money is going because he wants certain parties, you know, like Mulayam Singh's party, Nitish Kumar and Mamata Bannerjee to support his candidature as Rashtrapati of India? Well, this is not private money. This is the people's money," he said.
Clearly, though the numbers don't favour Mr Sangma in the race for President, his side will pull out all stops to make a battle of it.
Mr Mukherjee's party the Congress has smirked in response; in Law Minister Salman Khursheed's words, "You cannot stop working five years before you are actually considered as the President, saying we will do nothing at all. So I think we should all be good sports. Now that it has become clear that there is an overwhelming majority for Pranabda not just from people who support the UPA, but across the board, it's best to accept the reality."
The Congress also attacked Mr Mukherjee's rival, PA Sangma, fielding its Meghalaya Chief Minister, Mukul Sangma. "The President cannot represent just one community... Only Congress has taken care of tribals," he said.
Mr Mukherjee is the candidate of the ruling UPA; he has also won the endorsement of two Left parties and Nitish Kumar's JD(U), which partners with the BJP in Bihar. All that pledged support totals more than 50 per cent of the electoral college that elects the President and as of now, Mr Mukherjee seems all set to be the next President of India. Both candidates have begun campaigning.