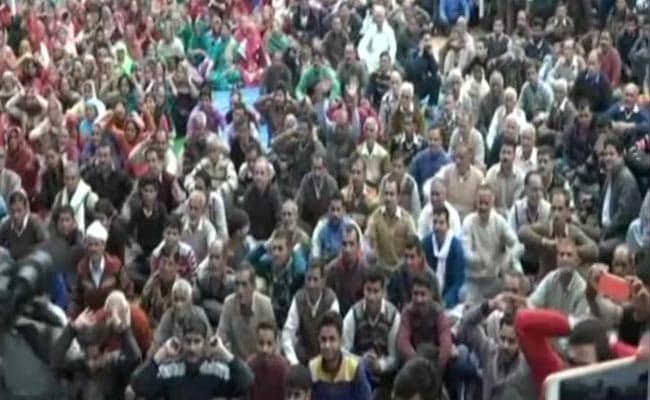 NEW DELHI:
A police sub-inspector has been detained for questioning and a head constable arrested by the Jammu and Kashmir crime branch for their alleged involvement in destruction of crucial evidence in the rape and murder case of an 8-year-old nomad girl in Kathua district.
The arrest was made a day after NDTV exposed how the Kathua police that initially handled investigations into the case had destroyed crucial evidence.
Hawaldar
Tilak Raj, posted at the Hiranagar police station, was arrested after it was prima facie established that he had washed the girl's clothes that were soaked in blood and mud before sending them for forensic test. Sub-inspector Anand Dutta, who was the investigative officer, has been detained for questioning.
"We arrested a
hawaldar
and a sub-inspector is being questioned in connection with destruction of evidence" said SP Vaid, the director general of police. Mr Vaid had earlier told NDTV that action would be taken against those found involved in destroying evidence.
Two special police officers, Deepak Khajuria and Surinder Verma, have already been arrested. Two more persons, including a juvenile, have also been arrested for the kidnapping, rape and murder of the 8-year-old.
Police sources say the crime was carried out with a view to driving out Muslim nomads from the Hindu-dominated village. They claim that call details and mobile tower data place the accused on the location of crime, adding that there is evidence that drugs used to sedate the 8-year-old was bought by Deepak Khajuria from a medicine shop in Kathua days before the girl was kidnapped.
There is stiff resistance to the crime branch probe by the Hindu Ekta Manch which is spearheading protests in Kathua. The group has rallied against what it calls wrongful arrests. Two BJP ministers in the state have backed the group.
Adding to the theory of a planned crime, investigators claim links between some protesters and the murder.
Sanji Ram, a retired revenue officer, has been a key driver of the Hindu Ekta Manch protests. Officials say Sanji Ram is also the custodian of the premises where the girl was held captive for a week. Mr Ram has denied any involvement.
"First, they said she was kept in a cowshed, then they said
devasthan
. People from seven villages come there and everyone has a key of the premises," said Mr Ram.
In a letter to the director general of police, the crime branch has detailed lapses by the Kathua police. Besides destruction of evidence, they accuse the local police of not preserving the crime scene. No searches were carried out in the village even after girl's family filed a missing complaint, the crime branch said in its letter.
The girl was kidnapped from Rasana village on January 10. According to investigations, she was drugged and held captive for a week before being murdered.