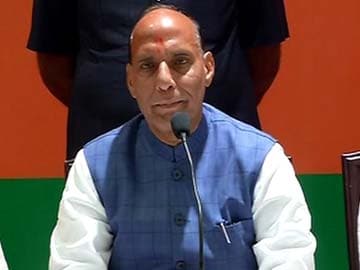 New Delhi:
The Prime Minister's Office has overruled a Home Ministry suggestion and appointed R N Ravi, chairman of the Joint Intelligence Committee, as the new interlocutor for peace talks with a Naga rebel group.
Mr Ravi's appointment was notified today. Home Minister Rajnath Singh had recommended the name of Ajit Lal, who retired as chairman of the JIC in July, to be the interlocutor.
The PMO's intervention is likely to spark much speculation, coming as it does soon after a controversy over reports that the Home Minister's son was castigated by the Prime Minister for inappropriate political conduct.
Earlier this week, the Prime Minister's Office and BJP President Amit Shah tried to plug what was seen as a major rift, defending the Home Minister and dismissing reports of his son's alleged misconduct as baseless.
The PMO had earlier overruled another recommendation of the Home Ministry to appoint Alok Singh, an IPS officer, as private secretary to the Home Minister, on the ground that he had served as private secretary to former External Affairs Minister Salman Khurshid during the UPA regime.
Sources said the Prime Minister's Office deliberated for several weeks before overruling the Home Minister's recommendation and appointing Mr Ravi as interlocutor.
Mr Ravi, a 1976 batch IPS officer from the Kerala cadre, is an expert in Northeast affair; he looked after the region during his tenure in the Intelligence Bureau from where he retired as Special Director in 2012. He was appointed as JIC Chairman early this week.
The last interlocutor R S Pandey resigned seven months ago and Mr Lal had charge since then.
Mr Ravi will have to negotiate with Naga rebel group NSCN(IM), which had accused the previous Manmohan Singh government of failing to solve the insurgency problem in Nagaland, saying the UPA regime 'lacked decisive leadership'.
The government has held more than 80 rounds of talks with the NSCN(IM) since 1997.