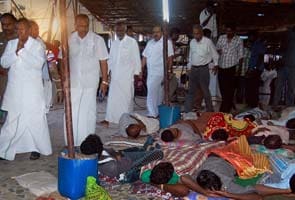 Kudankulam:
What happens next to a nuclear plant in Tamil Nadu is now upto the Prime Minister. Protesters at the plant - there were several thousand of them today at the gates - have decided to stop their demonstration. 100 villagers who were on a fast have decided to end their hunger strike.
They say Chief Minister J Jayalalithaa has promised to safeguard their interests.
In fact, at a cabinet meeting tomorrow, the state government is expected to formally adopt a resolution that asks the Centre to stop work at the Kudankulam nuclear plant.
The truce comes after the Prime Minister sent senior minister V Narayanasamy to gauge local opinion and to reassure villagers in Kudankulam that their safety and their livelihood is not at risk. After touring the area yesterday and confronting angry residents, Mr Narayanasamy promised, "People's safety first. Power later." After meeting the Chief Minister today, Mr Narayanasamy said he will brief the PM about the situation when he returns to Delhi. The Prime Minister will decide whether preparations at the nuclear plant should be put on hold. The first reactor was meant to become operational next month.
The 13,000-crore nuclear project at Kudankulam is expected to generate huge amounts of power - more nuclear power than anywhere else in the country - and help solve Tamil Nadu's considerable electricity problems.
Earlier this week, Jayalalithaa wrote to the PM and asked him to temporarily stop work at the plant till villagers are reassured of its safety. The government of India has certified that the plant meets international safety standards. It is designed to withstand a tsunami, for example. Yet, local opposition to the plant has been growing.
The nuclear project at Kudankulam is a joint venture with Russia and has been projected by experts as the poster child for India's nuclear programme. It was also scheduled to be the first nuclear plant to swing open after the disaster at the Fukushima plant in Japan following a tsunami in March this year.
Former Atomic Energy Commission chief M R Srinivasan suggests a vigorous public relations push to counter the "misinformation campaign" against the nuclear project.
"The Atomic Energy Department, Nuclear Power Corporation of India Ltd and Atomic Energy Regulatory Board have done extensive rechecks and they are satisfied that the circumstances that led to the Fukushima accident, are not at all likely to happen in Kudankulam," he told PTI.
He also blamed the unrest on misreports that more land will be acquired soon for the nuclear plant, and that the project will contaminate the sea nearby, affecting fishermen.
Mr Srinivasan told PTI that pointed out that fishing near the coastal nuclear sites of Tarapur and Kalpakkam has not been affected by the atomic facilities located there.