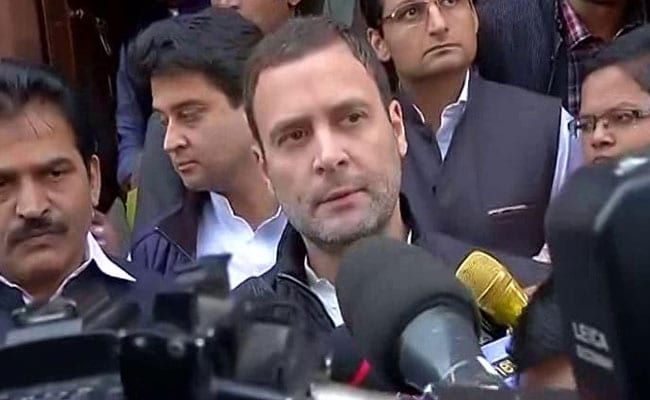 Highlights
Rahul Gandhi addresses Congress parliamentarians
Continues attack on governments demonetisation drive
Parliament still stalled over the decision to ban high-value notes
New Delhi:
With his mother and Congress chief Sonia Gandhi unwell, a meeting of the party's parliamentarians this morning was chaired by Rahul Gandhi, who said that Prime Minister Narendra Modi's "vanity and incompetence" and policy-making based on "TRPs" has forced "a catastrophic experiment" on the country in demonetisation.
The Congress is among a portfolio of
about 12 opposition parties attacking the government
over
its shock move to cancel 500 and 1,000-rupee notes earlier this month
. Because the invalid notes formed 86 per cent of the cash in circulation, and the supply of new currency is limited, people across the country have been placed precariously without cash, especially in rural India.
The opposition has
paralysed parliament
with angry disruptions that first demanded an explanation from PM Modi on his demonetisation drive and then an apology for declaring that those questioning the reform are "supporters of corruption and black money".
PM Modi's intent has been widely praised, but his government has been
faulted for inadequate preparations
for controlling the fallout of its ban on old high-denomination notes. Critics separately question how effective the reform will be in attacking the shadow economy, where only about 6 per cent of undeclared and untaxed wealth is held in cash, with the bulk stashed in assets like property, foreign bank accounts and gold.
"The Congress will put is full weight behind any genuine move to fight corruption and black money," said Mr Gandhi, suggesting the PM's current reform fails because "for reasons known only to the Prime Minister, he confused India's entire cash economy with the black economy."
The opposition complains that instead of penalising the corrupt rich, it is the middle class and poor who have been denied access to their own money with strict limits on how much can be withdrawn from bank accounts.
Rahul Gandhi's speech at the Congress Parliamentary Party meet: Full text