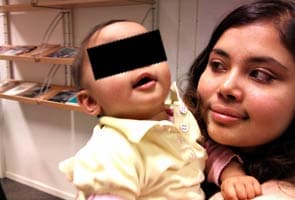 Stavanger/New Delhi:
The Bhattacharya family's battle to get the custody of their children in Norway seems to be getting longer. The family was hoping that India's special envoy's presence in Norway will bring one-year-old Aishwarya and three-year-old Abhigyan to their parents Anurup and Sagarika Bhattacharya sooner. But that is not going to happen.
Norway is sticking to its earlier stand and everyone will have to wait for a court date of their choice.
"I would be positive if something would happen before but I think we have to wait until March 23," said Svendsen, the family lawyer of Bhattacharyas.
In Delhi today, the children's grandparents, who are on a four-day strike to demand an early solution to the custody battle, met Foreign Minister S M Krishna who told them that India will get the children back at any cost.
The family is eagerly waiting for Norway's Child Welfare Services (CWS) to make an early announcement about their decision regarding their recommendation to the court. But sources have told NDTV that Norway will seek guarantees from Indian authorities that the financial needs of the children's uncle Arunabhash Bhattacharya, , who has been proposed as a custodian for the children if Norway agrees to send them back to India, have been met.
Norwegian authorities also want to ensure that other family members, including grandparents or parents, do not get custody of the children.
A special envoy, Madhusudan Ganpathy, sent by the Ministry of External Affairs (MEA) in Delhi to Oslo, met the Norwegian foreign minister and shared India's concern over attempts by Norwegian officials to keep the children with them even after their visas expire. The children's parents have objected to this plan as well, but Norwegian law makes their permission unnecessary. The special Indian envoy is expected to return to India tomorrow.
The uncle has been through a period of assessment for 25 days; he says he's done all he could to convince the Norwegian Child Welfare Services that he can look after the children very well.
"Our main thing is to get the kids back. It's been a long war, the kids have a good interaction with me, they know me. That's called blood relation," he said. Local authorities have been supervising his visits with his niece and nephew.
The children were removed from their home in Stavanger in Norway last May after child welfare officials decided the Bhattacharyas were negligent parents.
Last week, Mr Krishna underlined India's commitment to recovering the children, warning that Norway must recognise that the children are "neither orphans nor stateless persons."
Anurup was on a posting to Norway; his family's visas expire in March, and Sagarika and he worry that after that, they will find it tough to travel to Norway to fight for their children.
In Delhi, Anurup and Sagarika's parents tried to protest at the Norwegian embassy yesterday, but were denied permission. BJP leader Sushma Swaraj, CPM leader Brinda Karat and Congress' Mani Shankar Aiyar all came to show their support to them.
"We feel this is equal to kidnapping. If the matter is not resolved till the day Parliament starts, this will be the first issue that we raise," said Sushma Swaraj, Leader of Opposition, Lok Sabha.
"You can't just pay a woman some money and expect her to make up for the love given by a parent," said Brinda Karat, CPM leader.
The parents are sticking to their stand that they will not ask for children's visa renewal; the Norwegian authorities will perhaps delay the process of the resident permit to avoid upsetting the Indian side. But it's not clear the papers the children will have in this interim period.