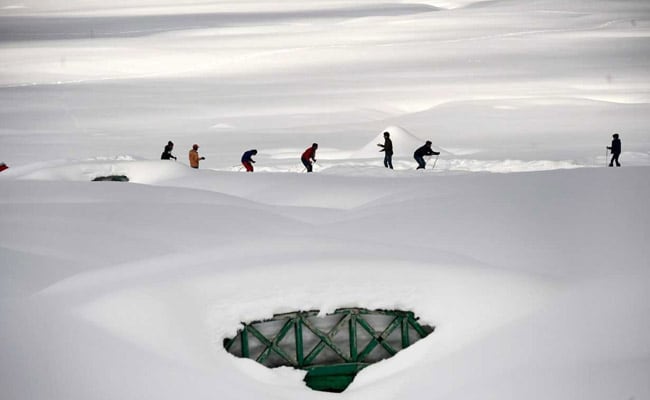 New Delhi:
Intense cold wave continued in Kashmir and Himachal Pradesh as the mercury stayed below the freezing point, while fog in parts of northern plains affected train services.
Minimum temperatures stayed two to four degrees below normal in the hills and valleys of Himachal Pradesh, while in high-altitude tribal areas of the state, the mercury hovered between minus 15 degrees Celsius and minus 21 degrees Celsius.
Keylong, Kalpa and Manali recorded a low of minus 8.9 degrees Celsius, minus 4.6 degrees Celsius and minus 2.2 degrees Celsius respectively.
Kargil, in Jammu and Kashmir's Ladakh region, saw the mercury dip by a degree last night to settle at minus 16 degrees Celsius, while Srinagar recorded a minimum temperature of minus 4.8 degrees Celsius last night.
Kashmir has been going through extremely dry and cold weather conditions this winter, causing health problems among the children and elderly.
The Meteorological (MeT) department has forecast rains or snowfall in isolated places and fairly widespread downpour tomorrow.
If the forecast is good, it will end the dry spell this winter which has now entered the seventh week -- an unusual occurrence in Kashmir during January when chances of snowfall are maximum.
The national capital experienced a chilly day with the minimum temperature dropping to 6.4 degrees Celsius, three notches below normal, while dense fog affected train services in the morning.
According to the Northern Railways, till 6 AM, 43 north- bound trains were delayed, seven rescheduled and 18 cancelled.
Fog engulfed most parts of Punjab and Haryana as cold conditions continued in most parts of the two states with Narnaul being the coldest in the region with a low of 2.5 degrees Celsius.
In Punjab, Amritsar recorded a low of 5.5 degrees Celsius, while in Haryana, Ambala's minimum was 8 degrees Celsius.
Dense fog engulfed parts of Uttar Pradesh, while Fursatganj registered a minimum temperature of 3.7 degrees Celsius, the lowest in the state.
Night temperatures remained below normal in Gorakhpur, Faizabad, Lucknow, Bareilly, Varanasi, Kanpur and Moradabad divisions, the MeT office said.
In Bihar, Gaya recorded a low of 5.8 degrees Celsius, followed by 7.2 degrees Celsius in Patna, 7.8 degrees Celsius at Bhagalpur and 8 degrees Celsius in Purnea.
According to the weatherman, minimum temperatures are expected to rise in major cities of the Bihar tomorrow.
(This story has not been edited by NDTV staff and is auto-generated from a syndicated feed.)