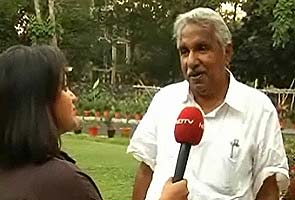 Thiruvananthapuram:
Denying the claims of the Italian foreign minister, Kerala Chief Minister Oommen Chandy today told NDTV that the two Italian marines, accused of shooting dead two Indian fishermen off the coast of Kochi last year, "were not victims of Kerala's politics and emotions rather were victims of their own criminal wrongdoing."
In an exclusive interview to NDTV, Mr Chandy said the marines - Massimiliano Latorre and Salvatore Girone - have committed a crime and are involved in the murder of the innocent. He also said that he refused to accept any jurisdiction of Italy in the case.
The chief minister also reiterated his demand saying that the special court to be set up under the directives of the Supreme Court should be set up in Kollam, Kerala.
"Trial must be in India because they shot down two Indian fishermen on Indian boat. There is no question of Italy trying the marines," he said.
On the issue of assurance from the Indian government against death sentence for the marines, Mr Chandy said, "Indian Foreign Minister has said these reports are false and no such assurance has been given. There is no such provision within Indian Judiciary for the same."
The Kerala Chief Minister had earlier met the Prime Minister and requested stern action while demanding the return of the Italian marines to India. In a dramatic chain of events, the marines finally returned to India on March 22 after the Italian government initially refused to return the naval officers who were under the custody of Supreme Court in India. They were allowed to visit Italy earlier this year for four weeks for voting in the national elections. The stand-off had created a huge diplomatic row between the two countries with considerable anger witnessed in Kerala.
Where a speedy trial is in the interest of both the countries and has been demanded by the deceased fishermen's families time and again, the setting up of the special court will be watched by all with keen anticipation.
Italy has maintained that the shooting took place in international waters and therefore the case is within its jurisdiction but Kerala's Chief Minister told NDTV that, "the killing took place in Indian waters, within the contiguous zone and we can maintain our authority even within that zone."