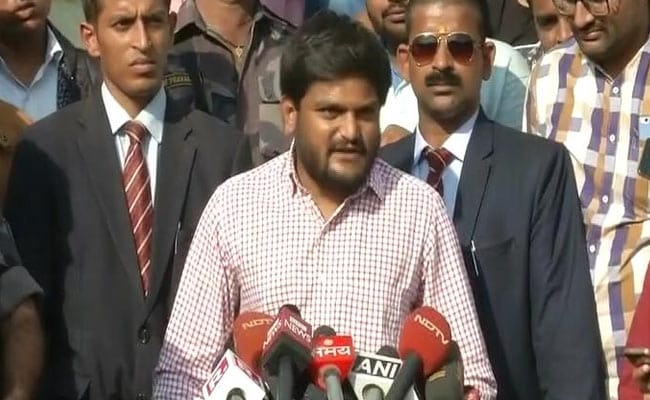 Patna:
Gujarat Patidar leader Hardik Patel, who arrived in Patna today, said there was "no point" in meeting Bihar Chief Minister Nitish Kumar, citing the latter's tie-up with the BJP, to which he has been staunchly opposed.
Talking to reporters at the airport, Mr Patel who had showered praises on Mr Kumar while the latter was with the Grand Alliance, however, said he had a desire to meet RJD supremo Lalu Yadav and would "definitely try to" call on the party's heir apparent Tejashwi Yadav during his stay in Bihar.
"Nitish Kumar has now changed his tack.....there is no faayda (advantage) in meeting him. I would have definitely loved to meet Laluji, had he not been away in Mumbai undergoing medical treatment. And I would definitely try to meet Tejashwi Yadav if he remains here during the period of my stay", the Patidar leader said.
Mr Patel, who is scheduled to address a function in Patna tomorrow, also clarified "I have not come here to support or oppose anybody. I have come here to take forward my fight for justice and rights".
Replying to queries about his plans about his own political future, Mr Patel said "I am opposed to the BJP", but added "I am only 24 years old and not yet eligible to contest an election".
In 2016, when the Patidar agitation was at its peak, Mr Patel had met Nitish Kumar, who had returned to power a year earlier after forming an alliance with the Congress and RJD, and lauded the Bihar Chief Minister's efforts at bringing anti-BJP forces together.
Mr Kumar has been supportive of the demand for extending reservation benefits to the Patidar community in Gujarat.