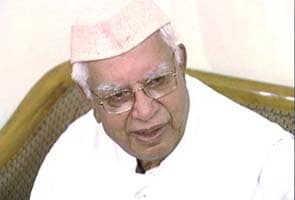 New Delhi:
A special bench of the Supreme Court will on Thursday hear the paternity case involving Congress leader ND Tiwari and his son Rohit Shekhar.
The hearing is expected late in the afternoon. A paternity test sought by Mr Shekhar has established Mr Tiwari, Congress veteran and former Uttarakhand chief minister, as his biological father.
The result of the test was declared by the Delhi High Court in July. But several other issues surrounding the case remain undecided and have been dragging on in court.
Mr Shekhar, 32, had five years ago gone to court against Mr Tiwari, 87, who filed several appeals in the Delhi High Court and the Supreme Court to get the case dismissed.
Mr Tiwari's lawyers argued that a DNA test would amount to invasion of his privacy. But the courts did not buy the argument.
Mr Tiwari underwent the paternity test only after warnings from the high court, which even authorised the police to enforce its decision, if necessary.