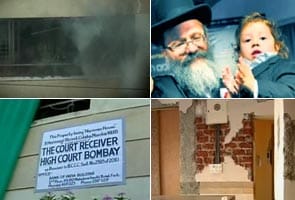 Mumbai:
In stark contrast to its dusty surroundings, the High Court Receiver's notice stands out at the Chabad House, better known as Nariman House, an emblem of the 26/11 attack.
But the property now finds itself caught in a bitter legal battle within the Jewish community.
Rabbi Nachman Holtzberg, whose son Rabbi Gabriel and daughter-in-law Rivka were brutally killed in the attack, has accused Chabad of India Trust of trying to grab the property as well as millions of dollars raised worldwide to renovate and reopen it.
The allegations came after the Chabad of India Trust dragged Eliran Russo, holder of Rabbi Holtzberg's power of attorney, to court.
Holtzberg says in the capacity of a lifetime trustee of Nariman House, in 2007, he undertook its renovation with his own money. The repairs were overseen by Eliran Russo who holds his power of attorney.
Holtzberg has also alleged that most of the money collected for the cause of Nariman House and collected in Baby Moshe's name, was never released by the Chabad of India Trust.
In October this year, the Chabad of India Trust moved court and got the renovation halted arguing Russo is not a trustee and hence cannot be an overseer, spilling the dispute in public domain.
Rivka and Gabriel's son, Moshe is being raised by Rivka's parents in Afula in Israel in the care of the heroic nanny Sandra who saved him.
They dream to see Moshe return as Rabbi to the same Nariman House, his parents so lovingly developed as a community centre.
Chabad Authorities have denied all charges. They say a large portion of the funds is being sent for Baby Moshe's welfare and a significant amount is being spent on repairing Nariman House.
When work on the restoration started, the focus was to get Nariman House ready in time for the second anniversary.
But as Baby Moshe's home gets caught in an unfortunate crossfire, it is clear it's going to miss its deadline, as all restoration work has come to a complete standstill.