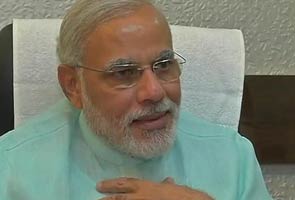 Narendra Modi has, in a rare interview to news agency Reuters today, defended his actions during the 2002 Gujarat riots, asserting that "we used our full strength to set out to do the right thing." Already, there is political outcry.
(Read the full interview)
Here are the highlights of the interview:
"People have a right to be critical. We are a democratic country. Everyone has their own view. I would feel guilty if I did something wrong. Frustration comes when you think 'I got caught. I was stealing and I got caught.' That's not (what happened in) my case."
"However much brainpower the Supreme Being has given us, however much experience I've got, and whatever I had available in that situation and this is what the SIT had investigated."
"If we are driving a car or someone else is driving a car and we're sitting behind, even then if a puppy comes under the wheel, will it be painful or not? Of course it is. If I'm a chief minister or not, I'm a human being. If something bad happens anywhere, it is natural to be sad."
"I'm a nationalist. I'm a patriot. Nothing is wrong. I'm a born Hindu. Nothing is wrong. So, I'm a Hindu nationalist so yes, you can say I'm a Hindu nationalist because I am a born Hindu, I'm patriotic, so nothing is wrong in it. As far as progressive, development oriented, workaholic, whatever they say, this is what they see. So there's no contradiction between the two."
"I am not in favour of dividing the citizens of India, its voters into Hindus and Muslims. I'm not in favour of dividing Hindus and Sikhs. I'm not in favour of dividing Hindus and Christians. All the citizens, all the voters, are my countrymen. So my basic philosophy is I don't address this issue like this."
"Look, the basic training of RSS, what is that training? One, (to be a) patriot. Whatever work you do, you think are you doing this for the good of the nation? That's the basic training. The other basic training is discipline. Your life should be disciplined. The other thing they say is what work you get, do it well. And the RSS itself wants that only political leadership is not the solution to all the problems. In every walk of life, you must have leaders. An education in the spiritual world, in the labor field, in the agricultural field, we must have leaders. This is the basic philosophy of the RSS. So this type of teachings are there in the system of the RSS."