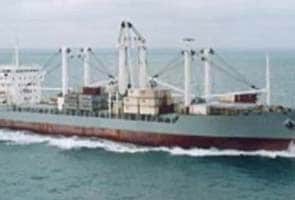 New Delhi:
A day after the Indian Navy ignored repeated calls for help by MV Suez, the ship released by the Somali pirates on Tuesday, the merchant vessel, today, gave the Navy a cold shoulder.
The merchant vessel did not respond to calls by INS Godavari - a Navy warship - which was dispatched last night by the Navy to escort MV Suez.
"On reaching MV Suez, INS Godavari made every effort through all available means and channels to communicate with Suez. However, the Master of MV Suez, didn't respond," the Navy said in a statement.
"After confirming that MV Suez was safe and was being escorted by other warships of coalition forces deployed in the Gulf of Aden, the Navy Ship continued escorting two other merchant vessels in the Gulf of Aden, whilst at the same time monitoring its transit in coordination with other navies," it said.
Indian government and the Navy had drawn flak from all corners for not helping out MV Suez sailors even after it came under a fresh attack by the pirates after its release.
The government had earlier put the onus of security on the owners of the ship. It is in fact Pakistan's PNS Babar that came to the rescue of the ship by providing cover for the Suez.
The merchant vessel was attacked by pirates earlier this week, causing fresh trauma for the 22-member crew that were first taken hostage last year. The crew, which includes six Indians, spent nine months in captivity.
Wasi Hasan, the Pakistani who captains the Suez, had said the crew may have to abandon the ship and hitch a ride with the PNS Babar. "The boiler in the engine room is not working, so our speed has slowed down from 15 knots to 8 knots," he told NDTV. He also said that there is eight tons of diesel left on board, not enough to get the Suez to the port of Salalah in Oman.
The Suez has four Pakistanis, one Sri Lankan and 11 Egyptians besides the Indian sailors on board.
The pirates who had taken the crew hostage had demanded 2.1 million dollars more after an initial ransom was paid. Mr Hasan says one million was paid by the ship's owner and the rest was raised in Pakistan by rights activist Ansar Burney.
The owners of the ship told NDTV yesterday that they had approached the Indian government for help. In an email to NDTV, a senior company official said, "I've contacted the (Indian) Navy, but there's no response. I have called them so many times." He says Indian officials advised him to "call the NATO hot line and ask if they have any war ship in this area for escort."