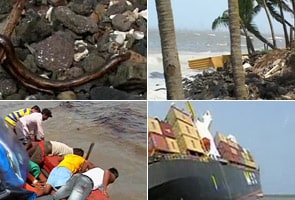 Uran, Raigad:
NDTV travelled to Uran in Raigad district to find out the impact of the oil spill off the coast of Mumbai, and the situation is scary.
A snake which came in from the sea was covered in oil and chemicals and was struggling. Neither could it go back into the sea as it is filled with oil, nor could it remain in the open in the baking sun. The oil spill has turned deadly. And it's not just this one snake.
"Our fishing nets in the sea are all covered with oil. Naturally no one is willing to buy such fish," said a concerned fisherman.
The marine life here is contaminated. This has been confirmed by initial reports carried out by the state government.
"Tests on some fish have been done. Some contamination has been detected," said Ashok Chavan, Chief Minister, Maharashtra.
The oil slick has even entered the sensitive mangrove belt. While the government is working towards a swift clean up, environmentalists fear it may be too late.
"My fear is that the oil slick will enter the mangroves and mudflats and once that happens we can't do anything to clean it up. Moreover I don't think India has the technology or the intent," said Bittu Sehgal, an environmentalist.
"Removing oil from the sea, the entire thing will take 45 days. Comprehensive detailed investigation on damage on mangrove forest will be done by Maharashtra Pollution Board," said the Environment Minister Jairam Ramesh.
And while the leak may have been plugged, going by the extent to which the slick has spread, it will be a while before the villagers can return to the seas for their livelihood.