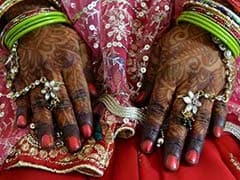 Guwahati:
Men who marry girls below 14 years will face cases against the Protection of Children from Sexual Offences (POCSO) Act in Assam, Chief Minister Himanta Biswa Sarma said. The decision was taken during a state cabinet meeting on Monday.
"A massive crackdown against child marriage will soon start across the state. We have decided to appoint a child marriage prohibition officer to look into the cases. There are one lakh child marriage cases in Assam," said Mr Sarma in Guwahati.
"Instruction has already been given to the Assam police to book the guilty under POCSO Act. Child marriage cases are higher in the ten districts of Assam," he added.
The legal age for marriage is 18 years for women and 21 years for men. Marriage below this age is considered to be child marriage, an offence.
"Men marrying girls in the age group of 14-18, will be tried under the Prohibition of Child Marriage Act, 2006 and necessary steps will be taken against them under this law," the Chief Minister said.
He further said, "We got a report that a nine-year-old girl become a mother. Those who support child marriage will also be booked under the law".
"As per a survey, 16 cases of child marriage have been reported from Dima Hasao district. 23 per cent of cases are from Dibrugarh. Action will be taken across Assam," The Chief Minister asserted.
Assam has a high rate of maternal and infant mortality and the primary cause is child marriage.
The state has an average of 31 per cent marriages in the "prohibited age", Mr Sarma said.
Himanta Biswa Sarma said that the state was inspired by Karnataka's crackdown against child marriage.
"Karnataka was the first state to appoint a child marriage prohibition officer. The state has booked 10,000 couples and prevented 11,000 child marriage cases. We have been inspired by Karnataka and decided to appoint a child marriage prohibition officer to prevent such cases," said Mr Sarma.