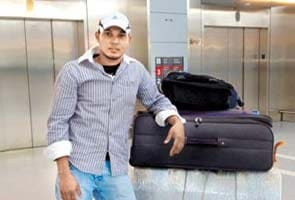 Mumbai:
Frequent fliers are well aware that it's heavy going with airlines when it comes to any excess baggage. But, 24-year-old Vinish Vincent George claims, in his particular case, national carrier Air India has gone too far. Falling short of 35 Canadian dollars towards payment for his extra baggage proved costly for the aspiring Indian pilot, who is stranded at Pearson Airport, Toronto since 12.40 pm (local time) on April 29. George, who recently completed his pilot training course at Ontario, was set to board Air India's Toronto-Delhi flight AI 188 on April 29, when the entire row started.
The victim, whose two bags were designated as overweight, says he was asked to repack from two bags to three as he reached the AI flight counter at the airport. He scurried around and managed to do the needful. However, to his shock, he was not allowed to board, since the airline allegedly said his boarding time had elapsed.
Waiting in the wings
George, who is at Pearson Airport since April 29, says he has not eaten anything and is still hopeful that the airline will revert back to him. Speaking exclusively to MiD DAY, George said, "I booked my Air India flight Toronto-Delhi for April 29 and was happy to have secured a seat on our national carrier.
From Delhi I was to catch another AI flight to Thiruvananthapuram. As I was returning back after completion of my training, carrying all my books and clothing, I had some extra luggage and was fully aware of this situation. I was ready to pay for the excess baggage at the Air India counter. I arrived at the counter at 12.40 pm for the 2.30 pm departure. I provided my e-ticket to the check-in counter staff and was asked to put my baggage on the weighing machine. My two bags of 44 and 45 kg were declared overweight and I was asked to shift some of the items in a third bag and pay for the extra luggage. I agreed."
"Since the bags were very heavy I asked the Air India representative on duty, Sangeth Mohan, to help me remove the baggage from weighing terminal. For this, he snapped at me and asked me to do it myself. It took time for me to position the trolley and keep the luggage on it. In the meantime I saw that the counter had closed and I was left there without further assistance, help or advice. I was shocked and bewildered with such rude, unprofessional behaviour on part of Air India," he added.
No help
"I was still at this counter when the Air India representative returned and asked me, rudely, to remove the luggage immediately. He even called the police who arrived there within minutes. When a cop asked the AI staffer to provide some help to me, Mohan claimed he was not dealing with me. The police officer then helped me remove the baggage. As pressure was mounting, I called up the vice-president of my flight school, who advised me to leave one bag behind and board the flight. I approached the check-in staff again who asked me to talk to Mohan. I requested him for a seat on the flight, on my confirmed booking, but he refused. Against my repeated requests, Mohan called the cops again and in front of them declared me a no-show for the scheduled flight," George claimed.
"The rude staffers of Air India deliberately delayed me to ensure that I was a no-show for the flight. The total charge for the excess luggage was 555 Canadian dollars and I had 520 dollars (Canadian) with me at the time. I also told them that I would pay the rest of the amount once I reach India and I was ready to give them a written undertaking. They also wanted me to pay 1,300 Canadian dollars, as fare difference, which I did not agree to, as I was not at fault. I approached all the counters of Air India at Toronto airport; no one came to help. I tried calling all the top aviation offices in India including DGCA and CMD's office of Air India, but could not reach anyone. I have lodged a complaint with the airport police at Toronto. They have promised to do the needful," he told MiD DAY.

What officials say
When contacted, the ministry of external affairs (MEA) sympathised with the case of Vincent George, but maintained that the matter does not fall under its jurisdiction. "It is sad to hear this but such cases do not come under our jurisdiction. Since this matter is related to the national carrier and the civil aviation ministry, you will have to contact them," said Vishnu Prakash, spokesperson, MEA. DGM, public relations, Air India, Praveen Bhatnagar said, "It was the fault of the passenger and he did not cooperate with the authorities. As a result he missed the flight." When contacted, Narinder Kumar, a lady official with Air India's office at Toronto airport, said, "We cannot say anything on the matter right now. Only the concerned official (Sangeth Mohan) can speak about this and he is not on the shift."