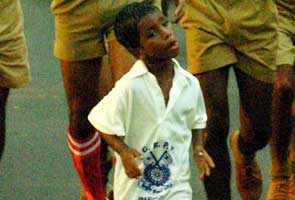 Gemma Atwal's documentary
Marathon Boy
, a film-festival favorite that will be shown on HBO on Thursday night, is a wrenching experience largely because it uses the moods and methods of true crime and pulp fiction to tell a story that is nominally about poverty, politics and the toxic mingling of celebrity culture and national pride in modern India.
The employment of those techniques may also leave you unsure of how to respond to what you're seeing and troubled by the film's (intentional) lack of answers. But it's unsophisticated these days to expect that sort of thing from a documentary.
Judged by current standards of emotional impact and artful ambiguity
Marathon Boy
is an unqualified success.
The film recounts the story, already extensively reported, of Budhia Singh, a child from the slums who became a sensation for his ability to run long distances at very young ages - half-marathons at 3, marathons and, in the most famous instance, more than 40 miles nonstop at 4. He and the coach-guru who adopted him, Biranchi Das, became the stars of a years-long national soap opera involving accusations of child abuse and fraud, standoffs with police and government officials, imprisonment and forced separation.
Marathon Boy
covers the entwined stories of Budhia and Mr. Das from 2005 to 2010. (The events predate the film
Slumdog Millionaire
, to which they are invariably compared.) Much of its immediacy comes from the fact that even the earliest events are portrayed in the present tense; Ms. Atwal apparently was there filming interviews from near the start of the tale. None of this is explained in the film, which has no narration and minimal explanatory titles, a choice that heightens the drama while leaving niggling questions.
Another choice that gives the film much of its impact is the decision to withhold, in a teasing fictional style, the tragedy that provides the denouement, and which will already be known to anyone with a basic knowledge of the case. We won't spoil the ending here, although it was reported in
The New York Times
when it happened.
In the production notes, Ms. Atwal, who is based in London, says that she was determined not to "pander to our Western sensibility" by identifying too closely with the sad child, Budhia. The film takes pains to show that in his environment, being exploited for publicity and financial gain and made to run punishing distances in circus-like conditions was not necessarily the worst outcome.
But in its dedication to being open-ended the film leaves many questions unanswered or unpursued. Was Budhia actually physically damaged? Did Mr. Das profit from his stewardship of Budhia, and if so to what extent? Is Budhia an athlete, or just a child blessed with freakish endurance? People on both sides of these questions state their views, often stridently, but the film makes no greater effort to find the truth.
The entire thrust of the film - emphasized by the atmosphere-setting scenes of littered slums and overwhelming crowds - is that in the Indian maelstrom the truth can't be found. You could, if you were being unkind, see that as a form of pandering to the Western sensibility: "It's India, Jake." Shake your head and move on.