London:
Come April and the Indian community in London is expected to make a beeline for the famed Madame Tussauds wax museum near Baker. Prime Minister Narendra Modi will soon join a host of celebrities, world leaders, historical figures and royalty - as a wax figure.
The celebrated wax museum of London established in 1836, which today has branches in 20 cities across the world, has come up with a proposal and the prime minister has already given several sittings at his New Delhi residence.
A Youtube video released by the Hong Kong museum of Madame Tussauds (see below) says the figure will be dressed in his "signature Kurta in cream with jacket and he will be featured in a traditional pose making a namaste gesture".
The figure will be displayed at the museums in London, Singapore, Hong Kong and Bangkok.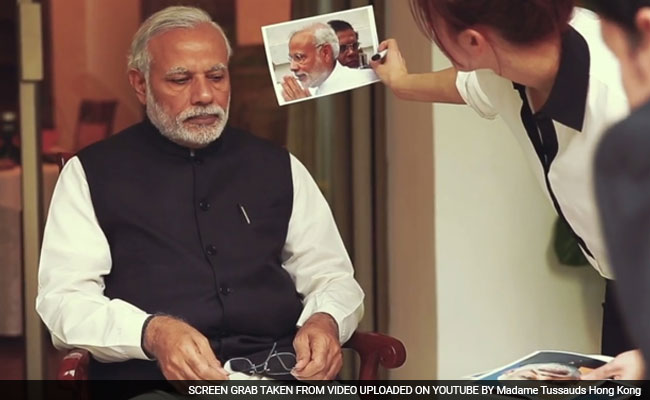 "Madame Tussauds has crafted figures of very distinguished dignitaries from around the world - how could I regard myself worthy of being alongside them?" the museum quoted the Prime Minister saying. "But when I was informed that your decision had emanated from public opinion and public sentiment, I was comforted."
He has also complimented the Madame Tussauds team for their "dedication, professionalism and skill".
"I have visited Madame Tussauds three or four times and had the pleasure of getting myself photographed standing next to the figures of various dignitaries," the Prime Minister reportedly said.
Madame Tussauds has already created wax figures of Mahatma Gandhi and Indira Gandhi and present day celebrities including Amitabh Bachchan, Shah Rukh Khan, Hrithik Roshan, Aishwarya Rai, Salman Khan, Kareena Kapoor, Madhuri Dixit and cricketer Sachin Tendulkar.
The Gujarati community forms nearly 55 per cent of the huge Indian community of nearly 1.5 million in the UK. "We are very excited and will definitely take the chance to visit the museum in the summer," said Janki Patel, a businesswoman in North London.