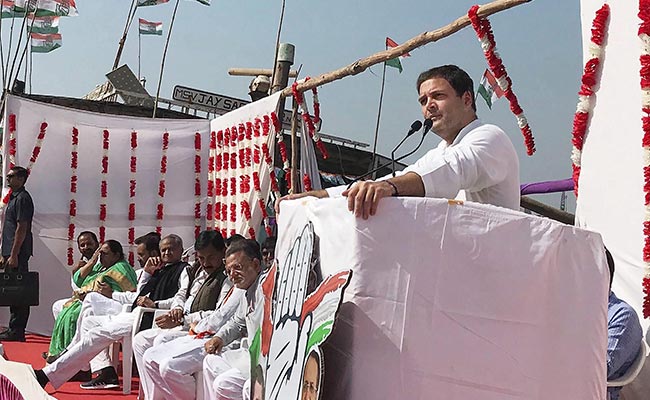 New Delhi:
In the run up to the assembly elections in Prime Minister Narendra Modi's home state, Congress vice president Rahul Gandhi began a two-day visit to Gujarat on Friday. The Congress scion's visit comes soon after the grand old party signed a deal with the Hardik Patel-led Patidar community following rigorous negotiation.
However, Mr Patel and Mr Gandhi are not expected to share stage during the election rallies in Gujarat.
The
highlight of his two-day tour
has been the visit to the Dalit Shakti Kendra (DSK), a vocational training institute run by Dalit activists, near Sanand town of this district, where he accepted a national flag
weighing 240 kg
. Mr Gandhi is scheduled to visit various villages and towns on his journey covering Gandhinagar, Arvalli, Mahisagar and Dahod districts today.
Here are the live updates from the Day 2 of Rahul Gandhi's two-day Gujarat tour.
Speaking in Gandhinagar, Congress Vice President Rahul Gandhi attacked BJP President Amit Shah and the ruling party today over the delay in the winter session in parliament. "This time (parliament) session will be held after Gujarat elections. Do you know the reason?" he asked and added, "Amit Shah's son converted Rs 50,000 to Rs 80 crore." He was referring to a story by a web portal that claimed that the turnover of a company owned by Jay Shah grew exponentially from Rs 50,000 to Rs 8 crore after the BJP assumed power at the centre in 2014.
Renewing attack over Rafale deal, Mr Gandhi added, "Second, and a more important reason, is the Rafale deal. The entire procedure went on for the purchase of the planes and after all the discussions were over, Narendra Modi himself went to France to change the contract."
The Congress had recently raised questions over the Rafale deal inked in an inter-governmental agreement with France in September last year, accusing the Modi-led BJP government of compromising on national interest and security while promoting "crony capitalism" and causing a loss to the public exchequer. As a part of the deal, 36 Rafale fighter jets were procured at a cost of around Rs 58,000 crore, PTI reported.