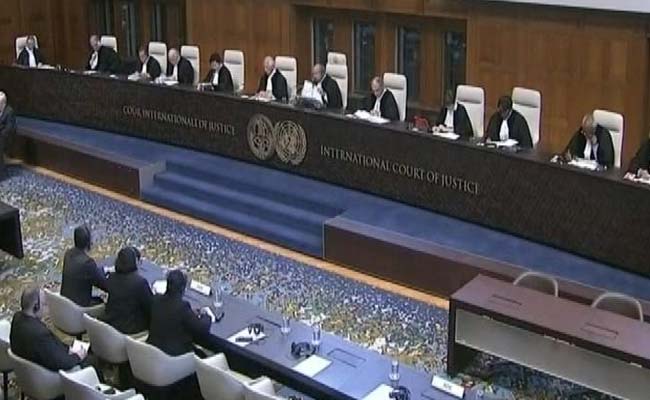 The Hague:
The International Court of Justice in The Hague has put on hold the execution of Indian national Kulbhushan Jadhav, who had been sentenced to death by a military court in Pakistan. Pakistan, the court said, must ensure that he is not executed till the court delivers its final verdict. The court said under the Article 36 of the Vienna Convention, Mr Jadhav is entitled to consular access and Pakistan must allow India to have access to him. "It is very, very clear that Indian stand is victorious. It is obvious that international jury reacted against Pakistan. Let us now hope final push (expected in August) also comes India's way," Attorney General Mukul Rohatgi said after the verdict.
Here are the Top 10 quotes by the International Court of Justice in Kulbhushan Jadhav case:
The court notes that the access denied to Jadhav appears to fall within its jurisdiction. The court concludes it has no limitation to consider the case. (Read full text of the UN court verdict here)

The court notes that Kulbhushan Jadhav's execution can take place at any time.

The court notes that Pakistan has given no assurance Mr Jadhav won't be executed (till the court delivers its verdict)

In those circumstances, the court is satisfied that there is urgency in the present case

Pakistan shall take all measures in its disposal to ensure Mr Jadhav not to be executed till the court completes hearing.

The Government of Pakistan shall inform the court of all measures taken in implementation of the order.

As far as irreparable prejudice is concerned - court finds India's concerns valid. The rights invoked by India (for Kulbhushan Jadhav) are plausible.

The circumstances of Kulbhushan Jadhav's arrest remains disputed.

The court notes that the Vienna Convention does not exclude persons arrested for charges of spying or terrorism.

India should have been granted consular access as per Vienna convention.