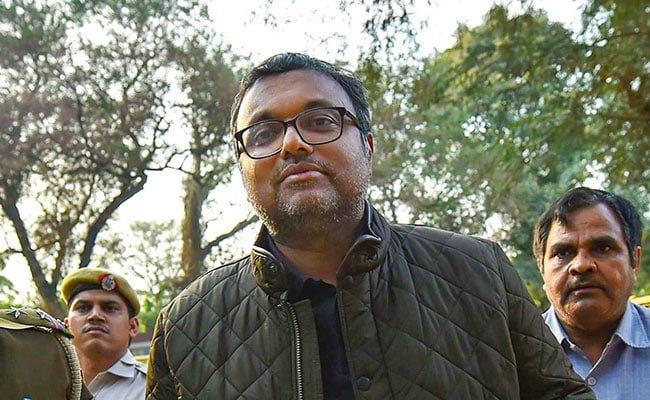 Highlights
Top court refuses to hear Karti Chidambaram's plea for going abroad
"It isn't a matter that needs to be taken up tomorrow": Supreme Court
His lawyer said his client planned to travel to Italy, Austria and the UK
New Delhi:
Karti Chidambaram, son of senior Congress leader P Chidambaram, may have to postpone his travel plans as the Supreme Court has refused to hear his request to be allowed to go out of the country saying, "it isn't a matter that needs to be taken up tomorrow".
Karti Chidambaram's lawyer had requested for an urgent hearing saying that his client planned to travel to Italy, Austria and the UK from November 3 and needed the court's permission.
Chief Justice Ranjan Gogoi rejected most pleas seeking urgent hearings on Friday saying, "All judges have more work than they can handle."
Mr Chidambaram has to take the top court's permission every time he travels abroad.
"People come and go abroad. What's our concern," said Chief Justice Gogoi added.
Karti Chidambaram, being investigated by the Enforcement Directorate (ED) and the CBI in several cases, including the one relating to FIPB clearance to INX Media for receiving foreign funds to the tune of Rs 305 crore when his father was the finance minister, was allowed to go abroad in the past.
Earlier, the Enforcement Directorate had told the court that Karti Chidambaram, son of senior Congress leader P Chidambaram, had been "blatantly misusing" the liberty granted to him by the court to travel abroad, using it to protract investigations.
The father-son duo won't be arrested in the Aircel-Maxis case till November 26, a Delhi court said today.
The former Finance Minister has been named as "Accused no 1" for money-laundering in the Aircel-Maxis case involving foreign investment approvals that were allegedly illegal. He and his son Karti Chidambaram, and also his accountant, are among nine accused in a chargesheet filed by the Enforcement Directorate.
Mr Chidambaram, 73, is accused of misusing his office as the finance minister in former Prime Minister Manmohan Singh's government to clear foreign investment deals in exchange for which his son, Karti Chidambaram, was given kickbacks.
Additional Solicitor General Tusshar Mehta, appearing for the CBI and ED, told the court that the senior Congress leader "wasn't cooperating".