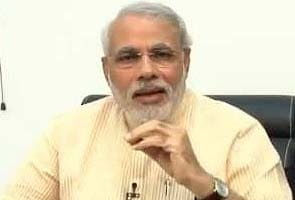 Mumbai:
The war of words between Narendra Modi and Kapil Sibal over the tablet computer Aakash is refusing to die out. Today Mr Modi has accused the education minister, whose ministry has worked on the tablet, of misusing public funds and trying to "bribe" him with a couple of the computers. Mr Sibal has retorted that the Gujarat chief minister is unhappy because the tablets will be distributed free.
The battle between the two started off after Mr Modi took a swipe at Mr Sibal, saying that the Aakash despite the hype is yet to be distributed to students, as had been promised. Mr Sibal then reacted by saying that Mr Modi was sent two tablets by his ministry, but they came back undelivered. (
Read full story here
)
Mr Modi turned this into another political opportunity. "When I asked why Aakash still wasn't given to students, he was saddened by it and said he will send me the Aakash tablet. Why is he trying to bribe me? " he told media persons today in Dahod Gujarat.
"He can return the tablets," Mr Sibal reacted in Delhi.
Just yesterday, another shot was fired in the verbal war being waged between the two.
This time, it was Mr Sibal, who has said that Mr Modi should change his name to Narendra "Virodhi" -- or opposer.
(Read : The name that Kapil Sibal wants Narendra Modi to use)
He had earlier said that a tablet sent to Mr Modi came back undelivered, which showed that he "doesn't want... education" in Gujarat.
Mr Sibal's suggestion to the Gujarat chief minister came after Mr Modi tweeted, "Instead of cheap gimmicks, the minister should first inform the nation on his promise to provide Aakash tablet to 10 lakh youth in 2011."
The two leaders have been squabbling over Aakash, developed by Mr Sibal's education ministry along with IIT Mumbai.
Over the last few weeks, each has punned on the word "Aakash" which means "sky", to hit at the other, and though they smirk as they say it, the words are getting sharper. A few weeks ago, Mr Modi had ridiculed Mr Sibal for not meeting deadlines on the much-awaited tablet and asked where the Aakash was - perhaps still in the sky, he said, as it certainly was not to be seen on earth.
Mr Sibal immediately responded by saying - "Woh toh paataal mein rahte hain, humne unke haath mein aakash de diya hai. (He lives in the netherworld; I have put the sky in his hands.)" He promised he would send the latest version of the tablet to Mr Modi when he visited IIM Ahmedabad in September.
Mr Sibal and Mr Modi were in fact were scheduled to meet at the Indian Institute of Management in Ahmedabad on September 22, but both begged off saying they were too busy.
Mr Sibal, however, kept his promise and dispatched a ministry official to Mr Modi's office to hand deliver an Aakash tablet. The official could merely sign the visitor's register at the Chief Minister's office, and was sent back. A similar attempt to deliver the tablet at the CM's residence proved futile too.
Mr Sibal was not amused. "This shows the mindset of the Gujarat Chief Minister. It shows his narrow-mindedness and pettiness," Kapil Sibal told NDTV, adding, "Aakash is a means of empowerment and education. If Mr Modi does not want that education, it's his call."
Sources in the Gujarat government say the Chief Minister was not in the state and so could not accept Mr Sisal's parcel. He was attending the BJP's National Executive in Surajkund on the outskirts of Delhi and that, they conjecture, is why the official from Mr Sibal's ministry was not allowed into the Chief Minister's office. The Gujarat CM's latest tweet came after that visit.