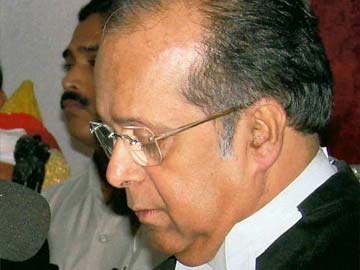 New Delhi:
Retired Supreme Court judge AK Ganguly, accused of sexually harassing a law intern, has questioned how a confidential statement made by the young woman before a Supreme Court committee has been made public, even as demands that he must quit as West Bengal Human Rights Commission chairman are growing louder. (
"I love you," Justice Ganguly said: read former intern's affidavit
)
Outside his Kolkata office angry people have gathered in protest after Additional Solicitor General Indira Jaising revealed excerpts from the law intern's signed statement before a panel of three serving Supreme Court judges in the Indian Express today.
Ms Jaisingh told NDTV that she had the young woman's permission to make the revelation and that Justice Ganguly must step down. Exactly one year after the Delhi gang-rape triggered spontaneous public outrage and protests, Ms Jaisingh said, "This is one year to the day that Nirbhaya was made. Little or no distinction between rape and harassment at the workplace."
She has written to Prime Minister Manmohan Singh seeking Justice Ganguly's removal from the West Bengal post.
In Delhi, Law Minister Kapil Sibal urged the Supreme Court to take "stern steps, just like they do when it is an ordinary person" against the former judge. The BJP's Arun Jaitley wrote a blog post titled, "To protect the dignity of his office, Justice Ganguly must quit."
The woman has in her affidavit, given a detailed account of what she alleges happened when she met Mr Ganguly for work at a Delhi hotel room on December, 24, 2012, on his request.
But Justice Ganguly has denied all allegations and so far has refused to resign. He said, "That is supposed to be confidential as it was given before a Supreme Court committee. How can it come out in the open?"
Asked if he would complain, he said, "What can I do? Who is listening to me?"
Last month, the intern had blogged about the incident for a website that covers legal news. The Supreme Court then appointed the three judges to investigate her charges.
The Supreme Court panel indicted the former judge for what it called "unwelcome behaviour" and "conduct of sexual nature" towards the woman, but said it cannot take any action against him because he had retired from the top court when the sexual harassment took place, and it has no administrative control over former judges, a stand widely criticised by legal experts and women's rights activists.