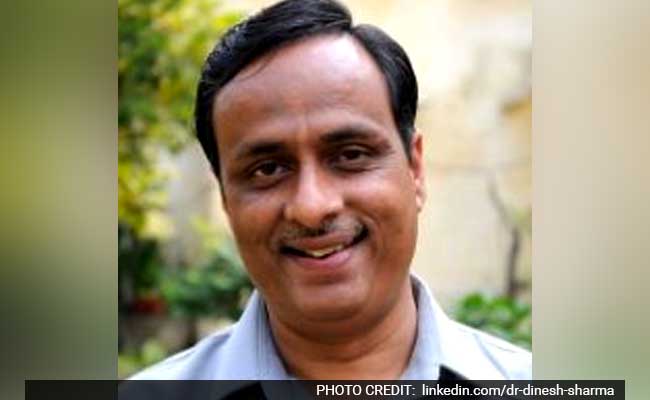 Highlights
Journalism began in the Mahabharata era: UP minister Dinesh Sharma
"Dhritarashtra's charioteer narrated bird's eye view of Kurukshatra war"
If this is not live telecast, then what is it, said Mr Sharma
Mathura:
Tripura Chief Minister Biplab Deb's claim that internet and satellite communications existed in India thousands of years ago was recently supported by Uttar Pradesh minister Dinesh Sharma who said that journalism began in the Mahabharata era.
"It (journalism) started during Mahabharata," the UP deputy chief minister said at an event to mark the 'Hindi Journalism Day'. He offered various instances from the epic to support his claim.
Sanjay, the mythological character who was Dhritarashtra's charioteer, the minister said, narrated "a bird's eye view of the war of Mahabharata" in Kurukshetra while sitting in Hastinapur.
"
Yeh
live telecast
nahi to aur kya hai
(if it is not live telecast, then what is it?)," Mr Sharma asked.
How else could see through Sanjay's eyes?
Biplab Deb had also asked
. "There was technology available at that time," he said.
The description of the blind king Dhritarashtra getting updates about the battle while sitting in the palace was also promoted as a scientific achievement in ancient India by Tripura Governor
Tathagata Roy
who had said, "It is virtually impossible to conceive of devices like 'Divya drishti',Pushpaka Ratha',etc without some kind of prototype and study thereon."
UP Chief Minister Yogi Aditynath's deputy also equated another character,
Narada Muni,
the messenger of gods in Hindu mythology, with internet giant Google.
"Your Google has started now, but our Google started long time back. Narad Muni was the epitome of information. He could reach anywhere and transfer a message from one place to another by saying 'Narayana' three times," he said and urged all to remember one's glorious past and history.
Before him, Gujarat Chief Minister Vijat Rupani, too, had likened Narada Muni to Google. He said Narad Muni used to deliver news to Balram (brother of Lord Krishna) during the Mahabharata period and also to others at various points of time.
Other BJP leaders triggered controversies with their claims that advance medical procedures such as cataract, plastic surgery, even the gravitation theory, nuclear tests and the internet, were all started during ancient times.
In February, junior education minister of Prime Minister Narendra Modi's cabinet, Satyapal Singh, said certain 'mantras' codified the laws of motion much before they were discovered by Isaac Newton.
Last year, the minister had said the first flying machine was invented by Indian scholar Shivkar Bapuji Talpade and not the Wright Brothers. This, he said, should be taught in the Indian Institutes of Technology (IITs) and other engineering institutes.
According to Y Sudershan Rao, the chairman of India's leading historical organisation, Ramayana and Mahabharata indicated that Indians were flying aeroplanes, carrying out stem cell research and using cosmic weapons 5,000 years ago.
In 2014, Prime Minister Narendra Modi had said that Lord Ganesha was the product of plastic surgery. A year later, PM Modi had said the account of Karna's birth in Mahabharata indicated that "people were aware of genetic science".
However, after such comments drew criticism, PM Modi asked BJP leaders to stop making controversial statements and providing "masala" to the media.
(With inputs from PTI)