Highlights
Jet Airways plane skids off runway at Goa airport; some injured
Emergency slides used to move passengers out of the plane
Jet Airways flight 9W 2374 was heading for Mumbai
Panaji:
A Jet Airways plane carrying 161 passengers and crew veered off the runway at Dabolim airport just as it began its take off run. A track of the movement of the aircraft on the website Flightradar 24, which monitors the movement of aircraft, indicates that the aircraft, on a flight from Goa to Mumbai, turned sharply right after completing a U turn at the end of the runway in order to line up for take-off. It is unclear why the Boeing 737-800 jetliner veered right before coming to a halt on its belly near a narrow side road within the boundaries of the airport. Images indicate that the nose-wheel of the jet has shorn off, and there is visible damage to the fuselage and the engines.
Emergency slides were used to move passengers out of the plane. 15 passengers suffered minor injuries while being evacuated, said officials.
The Navy said its prompt response in rescuing passengers prevented a "catastrophe"; the plane was fully loaded with fuel and an explosion was also possible.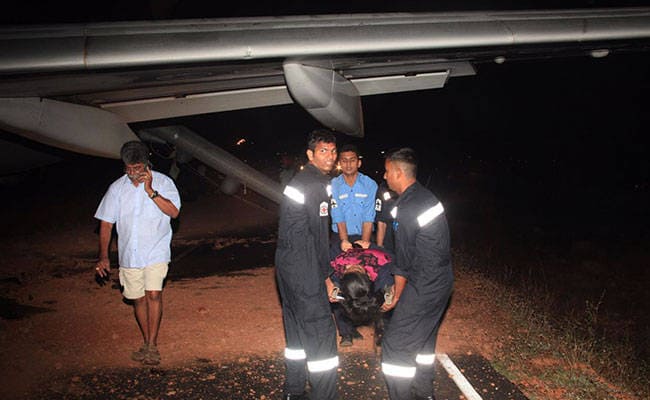 As it was about to take off at 5 am, the plane veered off the runway and came to a halt in the mud, its nose down. When the passengers were being brought out, the aircraft tilted forward, said an eyewitness, which caused some panic.
Images showed medical staff treating injured passengers lying on stretchers. Some passengers were taken to a local hospital.
The airport, which is located in the Navy facility INS Hansa in Vasco town, was closed down for a while and some flights were diverted.
The Directorate General of Civil Aviation and the Aircraft Accident Investigation Bureau are inquiring into the incident.
The Jet Airways flight had arrived from Dubai and was heading to Mumbai.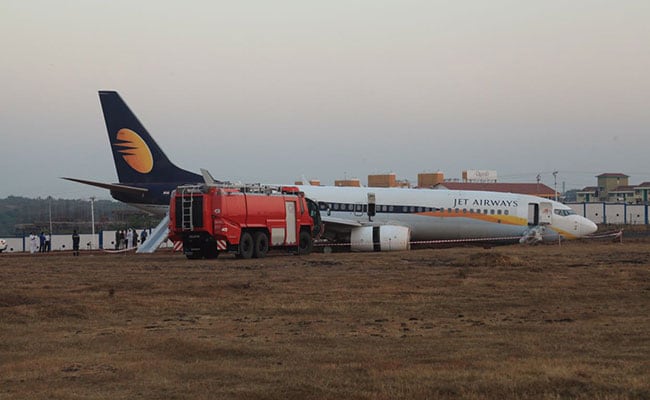 A team of Navy and airport officials inspected the runway for any damage.
Jet Airways later flew the stranded passengers to Mumbai in a wide-body B777 with a capacity to seat 346 guests.
The incident took place at the height of the tourist season in Goa, where thousands arrive at this time for Christmas and New Year celebrations.