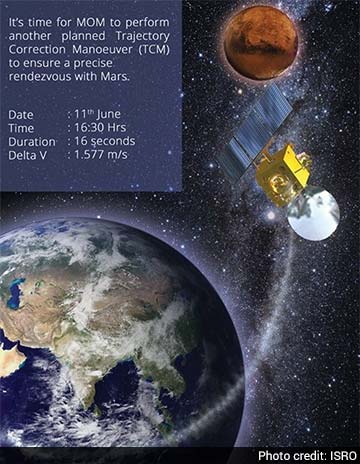 Bangalore:
In this season of soccer, the Indian Space Research Organisation or ISRO played a bit of football of its own -- albeit of the celestial variety -- with its Mars mission Mangalayaan.
At 4.30 pm today, the space agency gently nudged India's Mars Orbiter Mission a tad closer to the red planet.
It was a risky operation; if things had gone wrong, the Rs. 450 crore mission launched on November 5, 2013 from Sriharikota could have been lost.
Nearly 20 per cent of the 51 missions headed for Mars, launched by various countries, have been lost en-route.
ISRO chairman K Radhakrishnan told NDTV, "It has been executed successfully".
Earlier, he had admitted, "It is not a routine operation. Great precision is required in calculating and correctly firing the four small rocket engines on board the spacecraft in the exact direction."
He added that the ISRO team working on the project was 'confident' about executing the command.
Mangalayaan has so far covered nearly 466 million kilometres or nearly 70 per cent of its arduous 680 million kilometre-long journey.
For the last six months, since it was launched, the spacecraft has been in a state of induced slumber.
Today, its rocket engines were fired for a mere 16 seconds, but this was a tricky manoeuvre as the rocket engines had to be fired in the right direction.
Among the factors that could have affected the outcome of the operation is solar wind, which can make inter-planetary spacecraft drift from course. If the firing goes awry, the spacecraft can easily get lost.
Today's gentle nudge will help Mangalyaan score a goal on September 24, 2014, when it is supposed to finally rendezvous with the red planet.
Mangalyaan is currently travelling with a velocity of 28 km/s or about 100,800 kilometres per hour. It is now the fastest and farthest ever-traveling Indian object in space. It is so far away that it takes a radio signal almost five minutes to travel from Bangalore to the Mangalyaan.
If the Mars mission manages to reach within 440-560 km of the red planet's surface after its epic marathon, India will become the third country in the world to achieve such an exacting target on a maiden journey.