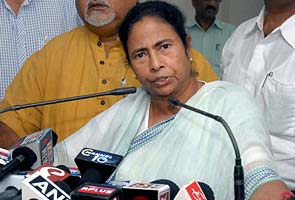 New Delhi:
Isolated in her attempts to bring a no-confidence motion against the government, Trinamool Congress chief Mamata Banerjee looked for a face-saver from her arch rivals, the Left. She said that her party is willing to support a Left-sponsored motion on the issue of Foreign Direct Investment (FDI) in retail. "I am ready to talk to any party on no-confidence motion. If the Left brings no-confidence, Trinamool is ready to support it," the West Bengal Chief Minister said in Kolkata today. She has had the bitterest rivalry with the Left in West Bengal.
Ms Banerjee also said that she had phoned the Communist Party of India's Gurudas Dasgupta to try and push for support. The CPI had initially said that it could support the Trinamool Congress if it brought the no-trust vote. "I have told Gurudas Dasgupta... the CPM has said we can't support Trinamool Congress' no-confidence motion. If that is the case, why don't you ask the CPM to table a no-confidence? We will support," Ms Banerjee said.
Mr Dasgupta reportedly told the Trinamool chief that any decision on the no-trust motion has to be taken only by the party. The Left parties are meeting tomorrow in Delhi to take their final decision on the issue.
The only one to leave the door open a crack was AIADMK chief and Tamil Nadu chief minister J Jayalalithaa, who said this afternoon that while her party will decide on a no-confidence vote if it was brought, "no one had asked for the AIADMK's support for a no-trust vote". She said that her nine MPs will vote against FDI in retail, but that number will still not be enough for Ms Banerjee.
The CPI(M) has already and categorically said that it will not give its support to the Trinamool Congress. Speaking to NDTV on Monday, CPI(M) general secretary Prakash Karat said as much and also that the Trinamool would be unable to muster the numbers. The CPI(M) has applied for a debate-and-vote motion on the issue of Foreign Direct Investment (FDI) in retail introduced by the government, which it thinks will be more effective as a strategy in Parliament.
While clarifying that Ms Banerjee was yet to approach him or anybody else from CPI(M), Mr Karat said they had to be careful as a defeat of the no-confidence vote would mean an endorsement for the government. "There are so many issues facing the UPA like corruption and a defeat of this no-confidence would send the wrong signal," he said.
Mr Karat said it was better to corner the government by forcing a vote under rule 184 on the issue of Foreign Direct Investment (FDI) in multi-brand retail. "While this wouldn't bring the government down, it would make it morally wrong for them to push through their FDI policy," he told NDTV.
Meanwhile, the BJP has so far been cagey about Ms Banerjee's plan. Most of the other Opposition parties are also eyeing it warily majorly for one reason - Ms Banerjee has 19 MPs and to introduce the motion in the Lok Sabha, she needs 50. (
Read: Mamata's no-trust vote - BJP tight-lipped
)
Moving a no-confidence motion not the best idea right now: Kamal Nath

In an exclusive interview to NDTV, Parliamentary Affairs Minister Kamal Nath said moving a no-trust motion is not the best idea right now. "They (Trinamool Congress) are not ready. Have to understand the mood of the people, can't topple the government and not have an alternative," he said. (
Watch the full interview here
)
"The FDI policy enables states to avail FDI if they want. It isn't being forced on them. If they don't want to avail of it, they need not. What will we vote on? That they should not avail or avail?," he added.
Mr Nath also said that he had not heard that any other party is ready to support Trinamool Congress (TMC) bringing a no-confidence motion.
"TMC has said they will bring no confidence motion. I have not heard that any other party is to support it... TMC have done some calculations to want to move no confidence motion. The fact is that they are 19 people. So must have calculated something. Don't know what she has talked with other parties," he said.