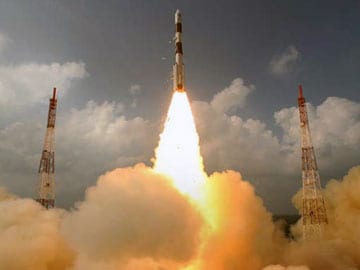 New Delhi:
India's mission to Mars, launched last week, has hit its first problem. Last night, the satellite was not able to raise its orbit to the required 100,000 km.
The Indian Space and Research Organisation or ISRO says the satellite is "healthy" and another attempt to push it higher will be held early tomorrow morning.
Instead of flying directly to Mars, the 1350-kg vehicle is scheduled to orbit Earth for nearly a month, building up the speed to "slingshot" its way out of the earth's gravitational pull to embark on its 780-million-kilometre journey.
ISRO staged a flawless launch last Tuesday of its Mars-bound spacecraft, loaded with a camera, an imaging spectrometer and a methane sensor to probe for life on the Red Planet.
ISRO Chairman K Radhakrishnan told NDTV today, "The space craft is healthy and it encountered a problem when a specific redundancy test was being conducted and it failed to reach the desired velocity it was to achieve." A failure analysis committee will examine why this problem happened, he said, but added that crucially, not much fuel was wasted in the failed attempt.
The 450-crore mission to Mars, India's first attempt at inter-planetary travel, has made international headlines, at least in part for its cost-efficiency. Its US counterpart, NASA's Maven, due to launch November 18 will cost 10 times as much.
The Mars Orbiter Mission, known as "Mangalyaan", must travel more than 200 million kilometres over 300 days to reach an orbit around the Red Planet next September.