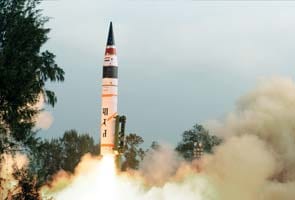 Wheeler Island, Odisha:
India's defence scientists are all set for the second test-launch of Agni-5, the country's most potent nuclear capable ballistic missile. The test-launch is expected to take place from the coast of Odisha at 8:40 am.
Developed by the Defence Research and Development Organisation (DRDO), the Agni-5 can carry a single nuclear warhead of over 1000 kg and can strike with precision targets in China and Europe.
The test-launch will validate the reliability of this complex missile which weighs about 50 tons and is 17.5 meters long.
The first test flight of the Agni-5 on April 19, 2012 was a phenomenal success after which India joined the select club of USA, Russia, France, UK and China who have such capabilities.
Agni-5 will give India the ability hit back or have second-strike capability even after a nuclear attack. The missile is India's fastest-travelling object and the first one to cross the Equator when launched from India.
The versatile missile system can be launched from a road mobile vehicle or even from a special railway bogey where it can be kept hidden and moved around at will.
Speaking to NDTV about the missile, Dr. Avinash Chander, scientific advisor to the Defence Minister and the head of the DRDO, said, "Today survival is the key, especially since we have the no first use policy. Our aim is to provide the highest mobility, the ability to launch missiles from anywhere, anytime, any moment and within a few minutes of the warning. It can be a very-very fast reacting missile which is a major asset when we are talking of the response to a nuclear strike. Short of exploding a nuclear bomb in the vicinity of the missile, nothing can stop it from working."
After about half a dozen successful tests, this latest missile system will be ready to be inducted into the arsenal of India's strategic forces.