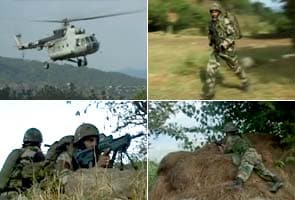 Chaubattia (Uttarakhand):
With terrorism spreading its tentacles globally, India and Russia are getting ready to wage battles as "allies" against future threats, even as their armies concluded a major joint military exercise in Uttarakhand's Chaubattia on Saturday.
Exercise Indra-2010 - held in a counter-terrorism, counter-insurgency operations backdrop in a mountainous terrain - witnessed participation from 250-strong Russian infantry troops and an equal number from an Indian battalion, who practiced 'cordon, search and destroy' operations and elimination of terror groups and leadership.
"Yes, certainly," Russian Federation Ambassador to India Alexander M Kadakin, who witnessed the exercise, told reporters when asked if he envisaged future joint operations against terrorists around the globe.
"The two countries have been fighting against global terrorism. We are not just friends, but allies too. India and Russia know well about it (terrorism), not from a bird's eye view, but as nations that have faced it practically on the ground. So we consider this exercise very significant," Kadakin said.
Emphasising the importance of the exercise, he said during the talks between Russian Defence Minister Anatoly Serdyukov and his Indian counterpart A K Antony during his visit to New Delhi this joint army drill was highlighted as an example of growing military-to-military relations between the two countries.
Kadakin was seconded by Major General Rajesh Arya, Commander of Indian Army's 6 Mountain Division, who said two or more countries coming together to fight terrorists when they threatened their common interests anywhere on the globe could not be ruled out.
"As we have seen in the last 20 years, terrorism and insurgency have been emerging and spreading internationally. So is the magnitude of terrorist threats, which were earlier minor, but has taken large proportions in the last couple of years.
"Therefore, in certain areas where there are common interests, couple of countries operating together cannot be ruled out. When terrorists try and disturb those interests, we cannot say we are not prepared to take on the threats jointly. Therefore, one has to train well in advance," he said.
He was referring to the experience of international joint naval operations against piracy in the Indian Ocean in the recent years as an instance.
To achieve interoperability in joint real life operations in the future, troops from the Russian 1st Cavalry of 34th Independent Motorised Brigade (Mountain) and Indian Army's 99 Mountain Brigade acquainted themselves with the arms and equipment, command and control system and operational tactics of each other.
Later, they went into cordon and search operations and later destroying the terrorist hideouts and capturing their leaders through a simulated counter-terrorism scenario using heliborne troops in the Kumaon hills around a 20-km radius here.
The exercise, since October 15, was carried out in three phases - familiarisation, Exercises Prabhav and Talaash special search, and debriefing.
Kadakin, who also interacted with the Indian and Russian troops over day, said the exercise was "significant" in the sense that this was the first time the two armies were training in joint counter-terrorism operations over a vast canvass of tactical manoeuvres, though there had been two earlier Indra series exercise in 2005 and 2007.
"What is significant in this exercise is the experience the two armies being shared and learning from each other on terrorist situations they (India and Russia) faced and operated in (such as Kashmir and northern Caucasus). When the two armies' personnel meet, it is a learning experience.
"It is not to compare each other's drills, but to share lessons so that we are richer in this fight against terror," he said.
Noting that the two armies needed to be ready for any eventuality, Kadakin said, "I do not pray that a situation should arise when this experience and lessons comes in handy, but the situation we are in today warrants it, be it due to threats from your country's vicinity or our northern Caucasus. This exercise will be fruitful and beneficial."
When asked about the three-year gap between the previous and this exercise in the Indra series, the Ambassador said apart from financial constraints of the Russian defence forces, it was also due to the reform process that they were going through in the recent years.
"Very simple... our army is now in the process of reform. That is why when reform is going on it is very difficult to distract oneself. It is better to complete the reform and start the exchanges. I am happy that this exercise has started. There were also financial constraints. There were no other reasons at all," he added.