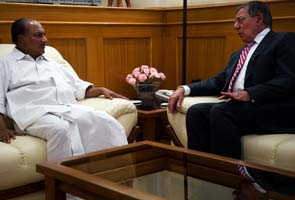 New Delhi:
Terming India as the "lynchpin" in its new defence strategy to cover the vast area of Indian and the Western Pacific oceans, US Defence Secretary Leon Panetta on Wednesday sought removal of bureaucratic red tape for promotion of defence trade and technology transfers.
Interacting with mediapersons in Delhi at the Institute of Defence and Security Analysis (IDSA), Mr Panetta stressed on the need for more joint researches and military exercises while finding ways to tackle the issues related with space power and cyber warfare.
Noting that US was developing a new defence strategy, he said, "Defence cooperation with India is a lynchpin in this strategy. India is one of the largest and most dynamic countries in the region and the world, with one of the most capable militaries."
On improvement of military ties with India in past one decade, he said, "We have acted together to get past our differences and re-establish better cooperation. It required that we get beyond our outdated notions above one another."
Reiterating the commitment of Obama administration for providing the best defence technology to India, he said, "But to realise the full potential of defence trade relations, we need to cut through the bureaucratic red tape on both sides."
He said he has instructed Deputy Defence Secretary Ashton Carter to lead an effort at Pentagon to engage Indian leaders on a new initiative to streamline the present bureaucratic setup to make defence trade more simple, responsive and effective.
Mr Panetta said India and US had held more than 50 cooperative defence exchanges last year, which provided opportunities for the two militaries to learn from each other.
"This will sharpen our skills the next time we are called upon to interdict a Weapon of Mass Destruction shipment, break up terrorist plot or respond to future tsunami," he said.
On the military assets sold by it to the Indian defence forces, specially transport and surveillance aircraft, he said, "India will soon have the second largest fleet of C-17 transport aircraft in the world... India and US will be the only countries operating the P8-I (maritime surveillance aircraft)."
Besides, negotiations are underway for the acquisition of Apache attack helicopters, Chinook heavy-lift helicopters and M777 ultra-light howitzers, Panetta said.
He vouched for more regular and complex exercises to further improve the military cooperation and said, "We must move beyond a focus on individual arms sales to regular cooperation that increases the quantity and quality of our defence trade."
Panetta also sought to allay apprehensions that the US was keen to use India as part of its strategy to contain China.
"My goal is to improve relations with China. I think India's goal is also to improve that relationship. I think that is the healthy way to approach a better relationship between powers in Pacific," he said.
Panetta said both the countries would also seek to strengthen relations with China.
"We recognise that China has a critical role to play in advancing security and prosperity in this region," he said.
Supporting the Southeast Asian Multilateral forums such as the ASEAN, Mr Panetta said, "These mechanism will prevent and manage regional tensions."
Stressing on engaging Pakistan, the Secretary said that India and US will need to continue to engage it, "overcoming our respective- and often deep-differences with Pakistan to make all of South Asia peaceful and prosperous."
In reply to a question whether the US has reduced the sale of Javeline Anti-Tank Guided Missile to half, the US Defence Secretary said, "It is not true. We have not cut the sale in half."
He assured that US is committed to share its technology with Indian defence forces and, "We are working very closely with Indians not only on that sale (Javeline's) but on others as well, to try to improve their capabilities."