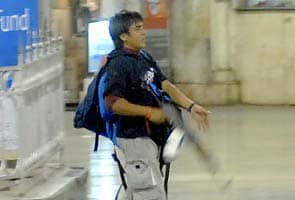 New Delhi:
Ajmal Kasab, the lone surviving gunman from the November 2008 terror attacks in Mumbai that left 166 people dead, was hanged on Wednesday in a surprise action that analysts in both India and Pakistan said was unlikely to derail improving ties.
Mr. Kasab was one of 10 young men who hijacked an Indian fishing boat, killed its captain, took a rubber dinghy into Mumbai and then systematically attacked high-end hotels, a train station, a hospital and a Jewish community centre over the course of three chaotic days. The 10 were members of Lashkar-e-Taiba, a Pakistani-based terrorist group, and their actions were directed by phone by people in Pakistan. Nine of the attackers were killed by Indian forces, and their bodies were buried in an undisclosed location. Only Mr. Kasab survived.
Pictures of Mr. Kasab wearing a black shirt and carrying an automatic weapon played on Indian television channels all day on Wednesday, where the execution received blanket coverage. By contrast, news channels in Pakistan gave it considerably less attention and the Pakistani government offered no official statement.
Tariq Fatemi, a retired Pakistani senior diplomat, said that some extremist groups would be angered by the hanging but that many other Pakistanis, including senior government officials, had been "deeply embarrassed" by Mr. Kasab and the Mumbai attacks.
Mr. Fatemi predicted that the hanging would do little to slow improving ties between the two countries.
"There is a virtual consensus among Pakistan's mainstream political parties on the importance of keeping the process on the rails and even promoting it," said Mr. Fatemi, citing recent trade liberalization measures.
Indeed, President Asif Ali Zardari confirmed on Tuesday that Pakistan had ratified an agreement with India to allow six-month visitors' visas, one of many steps in the two nations' growing ties.
For months after the attacks, Pakistan denied that Mr. Kasab was one of its citizens. The country finally admitted that he was in 2009. In its fax to the Pakistani Foreign Ministry, Indian officials asked that Mr. Kasab's family be informed of his execution.
The fax was necessary because the government of Pakistan refused to acknowledge the receipt of a letter informing them of the execution, top Indian officials said.
"So we faxed it, therefore our obligation to inform them adequately was fulfilled," said Salman Kurshid, India's minster of external affairs.
Since no one had asked for Mr. Kasab's body, the government buried him at the Yeravada Central Prison in Pune, officials said.
Mr. Kasab was sentenced to hang in May 2010, but executions have become so rare in India - the last was in 2004 - that there had long been speculation about whether Indian officials would commute the sentence and, if not, when it might be carried out.
The secrecy surrounding the timing of the execution was intended to avoid ongoing irritation to relations with Pakistan and to forestall lobbying by European governments that oppose the death penalty, according to unnamed officials quoted in the Indian media.
Indian Home Minister Sushil Kumar Shinde denied that domestic political considerations played any role in the timing of Mr. Kasab's hanging.
"There is no question of mileage-taking," he said. "It was already decided."
There are hundreds of people on India's death row, many of whom have filed clemency petitions with India's president. One of those is Afzal Guru, who was involved in a 2001 attack on India's Parliament and whose petition would normally be decided before those filed later, including Mr. Kasab's.
But President Pranab Mukherjee, a veteran of India's dominant Congress Party, decided on Nov. 5 to reject Mr. Kasab's petition, beginning a swift process that led to his execution Wednesday. Crucial state elections will be held next month in Gujarat, where anti-Muslim and anti-Pakistan sentiments are popular and where the Congress Party is a considerable underdog.
Prakash Javadekar, a spokesman for the Bharatiya Janata Party, the main opposition party in the central government and the dominant party in Gujarat, welcomed the news of Mr. Kasab's execution and said that other attackers should meet the same fate.
"This is belated news but still good news," Mr. Javadekar said. "There can't be any queue for terrorists, and the mercy petition should be decided early and Afjal Guru should also be hanged."
Hafiz Muhammad Saeed, founder of the banned militant group Lashkar-e-Taiba, which carried out the Mumbai attacks, has become a prominent public figure in Pakistan over the past year, frequently appearing at political rallies and anti-American demonstrations. He often mocks a $10 million American bounty for information leading to his capture.
The trial of seven Lashkar-e-Taiba militants accused of orchestrating the Mumbai attacks from Pakistani soil, including its operational commander, Zaki ur-Rehman Lakhvi, is proceeding slowly. During the last hearing on Nov. 10, five police officials told the court that Lashkar-e-Taiba had shut down many of its militant training camps inside Pakistan. The statements were seen as the first official admission from Pakistan of the existence of such camps in relation with the Mumbai attacks. The next hearing is scheduled for December 1.
(Hari Kumar contributed reporting from New Delhi, and Declan Walsh and Salman Masood from Islamabad, Pakistan)
© 2012, The New York Times News Service