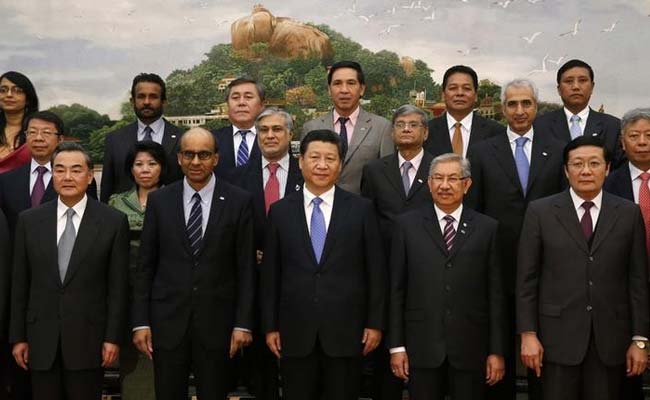 Beijing:
India is likely to get the Vice-President's post in China-backed Asia Infrastructure Investment Bank (AIIB) in which India and 56 countries have been admitted as founding members.
Chief negotiators of the countries would hold a key meeting next week to begin consultations to finalise the format of the AIIB's functioning, including the voting share.
The Memorandum of Understanding (MoU) of the bank to be headquartered in Beijing specifies that the authorised capital of AIIB will be $100 billion with an initial subscribed capital of $50 billion.
The bank being headed by China is headquartered in Beijing.
Chances of India getting the Vice President's post are high as the vote share is expected to be based on 50 per cent Gross Domestic Product (GDP) and 50 per cent Purchasing Power Parity (PPP) with primacy to be given to the Asian countries as the bank primarily aims to fund infrastructure projects mainly in the Asian region, officials told PTI.
Under these guidelines, India figured next to China and is expected to take the lead role, they said.
India has already been designated to head the BRICS, (Brazil, Russia, India, China, South Africa) Development Bank which will be headquartered in Shanghai.
It will have a starting capital of $50 billion. Besides AIIB and BRICS Bank, China has announced $40 billion special fund for its Silk Road projects to develop a wide network of highways, railway and ports in Asia and Africa.
The overall format of AIIB is expected to be finalized after a series of meetings in which India is taking part.
Chinese officials stated that the bank will draw best practices from the IMF, World Bank and ADB but will avoid domination of few countries setting rules for the international financial system.
As a new multilateral institution focusing exclusively on infrastructure development, the AIIB will be dominated by developing countries, and their requests and demands need to be respected, China's vice finance minister Zhu Guangyao said. The establishment of the AIIB is an attempt to help fill Asia's infrastructure investment gap and promote economic development in the region, he has been quoted by the official media here as saying.
The Asian Development Bank (ADB) estimated in 2009 that Asia needs about $8 trillion investment by 2020 to improve the region's battered infrastructure to keep its economies humming.
Representatives of the 57 founding countries, which were finalised will deliberate in the next two months on the AIIB's charter, of which management structure will be the most important part.
The US and Japan have refrained from joining while a number of their European allies like Britain, Australia, Germany and France joined the bank as founding members, taking Washington by surprise.
China has said the AIIB will draw experiences from other multilateral development banks and avoid their detours so as to be more cost-effective and efficient.
The new bank will feature a three-level management structure that includes a board of governors, board of directors and senior management, according to the Chinese Finance Ministry.
Zhu said that there were debates about whether or not the AIIB should have a resident board of directors commonly adopted by the World Bank and the ADB.
The intention of these debates is to "increase efficiency and improve the capacity" of the bank to better serve the clients, but it will be finally decided by coming negotiations among founding members, he said.
Officials said it is a good idea to have a non-resident board of directors for the AIIB, as it would help make a clear distinction between the board and the management, and also have great accountability.
Countries that have been accepted as founding members of the AIIB include China, India, Malaysia, Indonesia, Singapore, Thailand, Kazakhstan, Saudi Arabia, Kuwait, Oman, Qatar,Brunei, Cambodia, Laos, Myanmar, the Philippines, Vietnam, Mongolia, Uzbekistan, Nepal, Sri Lanka, Bangladesh, Pakistan, the Maldives, New Zealand, Jordan, Tajikistan, Luxemburg, Switzerland, Britain, Australia, Austria, Brazil, Denmark, France, Germany, Italy, Netherlands and Spain.