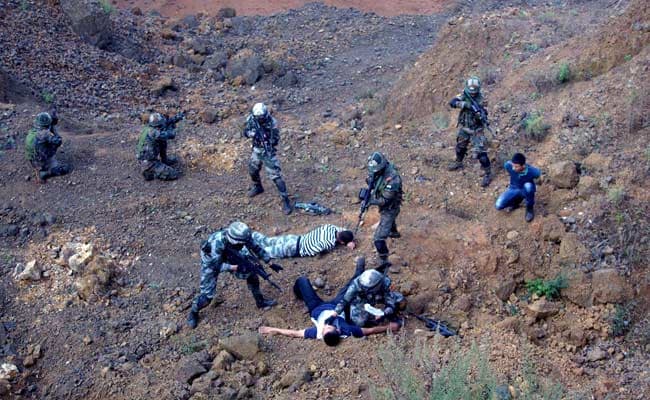 Beijing:
Contingents of Indian and Chinese military forces will wind up their fifth round of anti-terror exercises in Kunming city on Thursday after holding intense drills designed jointly as a result of their own crackdown against terrorist forces.
The 10-day drills with 175 troops from each side will formally end on Thursday with Chinese troops joining their Indian counterparts to celebrate Dussehra festival.
In the last two days both sides focussed on joint training in planning intelligence and counter-insurgency operations followed by mock attacks on terrorist camps.
Officials from both sides pooled up their anti-terrorism experiences as India and China have been battling hard against terror networks.
While India has been confronting infiltration of militants in Kashmir, Chinese security forces are battling to put down terrorists from East Turkestan Islamic Movement (ETIM) in Xinjiang for the past few years.
Besides sharing experiences the annual exercises called 'Hand-in-Hand' contributed to improvement of relations between officers and soldiers of the two sides.
The two sides press in different contingents every year so that personnel from different commands gets exposed to each other.
This year India deployed 2nd Battalion of Naga Regiment from Eastern Command which also looks after the border with China while China deployed troops from 14 Corps of China's Chengdu Military Region, whose focus is on Indian borders.
At the beginning of drills, the Chinese Foreign Ministry spokesperson, Hua Chunying said the drill will play a significant role in safeguarding domestic security and strengthening mutual trust between militaries of both sides and contribute to sound development of bilateral relations.
"We will continue strengthen our cooperation on national defence and inject more positive energy to our bilateral ties," she said commenting on the exercises.
This year for the first time Indian Ambassador to China Ashok K Kantha attended the inaugural ceremony.
Speaking to the troops, Kantha said Hand-in-Hand joint exercises this year are significant as they are truly "joint" in planning, command structure and in execution.
"Under conditions when terrorism has emerged as a major threat to humanity, the counter terror cooperation between the two militaries has added significance," he said.